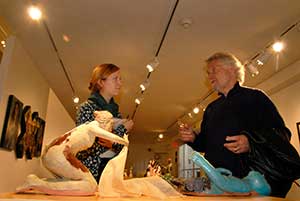 Ceramic artist and sculptor Joe Bova, is well known for his work in ceramics using animal imagery and for his role as a past president and fellow of the National Council on Education for the Ceramic Arts.


Grant Barrett, lexicographer, journalist and a radio host well known for co-hosting NPR's "A Way with Words," which is broadcast each week to hundreds of thousands of listeners around the world.


Celebration Barn Theatre, Maine's center for creating and presenting original theatre, has helped nurture some of America's finest touring artists, actors, dancers, mimes, jugglers and storytellers and has earned an international reputation for helping people from all walks of life learn to express themselves.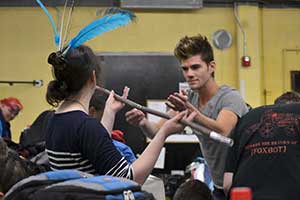 Playwright and actor James Fluhr is known for his production and design workshops and his original solo-performance, "Our Lady," an engaging show about one young man's journey to fully express, accept and be proud of himself. "Our Lady" honors the struggles of gay teenagers in the face of discrimination and bullying.


The author of more than 30 collections of poetry and fiction, Maurice Kenny has been hailed as the "dean of Native American poetry" by World Literature Today. He has been a visiting professor/poet-in-residence at numerous colleges, including St. Lawrence University, the University of Oklahoma, Paul Smith's College and SUNY Potsdam, where he was writer-in-residence.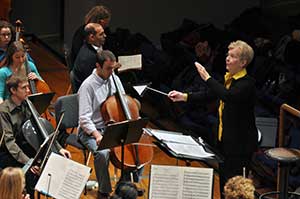 The 2012 Dorothy Albrecht Gregory Visiting Conductor, Ann Howard Jones. The director of choral activities at Boston University, Jones is a distinguished clinician, adjudicator, teacher and conductor. She is also known for her long association with the legendary American choral conductor, Robert Shaw. Her visit concluded in a performance of Verdi's Messa da Requiem with the Crane Chorus, Crane Symphony Orchestra and four guest soloists.
Guest soloists were Kelly Kaduce (soprano) and former Crane students Margaret Lattimore '91 (mezzo-soprano), Dimitri Pittas '99 (tenor) and Charles Temkey (bass).