Elizabeth Wong
Award-winning contemporary American playwright, television writer, librettist, theatrical director,college professor, social essayist,and a writer of plays for young audiences. Her critically acclaimed plays include China Doll (An Imagined Life of an American Actress) is a fictional tale of the actress, Anna May Wong; and Letters to A Student Revolutionary, a story of two friends during the Tiananmen Square protests of 1989. Wong has written for television on All American Girl starring Margaret Cho, and is a visiting lecturer at the College of creative Studies, University of California at Santa Barbara, where her papers are archived,and she is an adjunct professor at the University of Southern California, USC School of Theater.She holds a Master of Fine Arts degree from New York University's Tisch School of the Arts and a Bachelor of Arts degree in English and Broadcast Journalism from the University of Southern California.


J. Maarten Troost
J. Maarten Troost is the author of The Sex Lives of Cannibals, Getting Stoned with Savages, Lost on Planet China,and Headhunters on my Doorstep.Born in the Netherlands, he has lived in seven countries and traveled extensively throughout Europe, Asia, and the South Pacific.
The Sex Lives of Cannibals, which Publishers Weekly called "a comic masterwork of travel writing." Lost on Planet China, was an Amazon Best of the Month book and the New York Times called Headhunters on My Doorstep one of the top travel books of the year.
His essays have appeared in The Atlantic Monthly, Islands Magazine, the Washington Post, the Los Angeles Times, and the Prague Post. He currently lives with his wife and two children in the Washington D.C. area.
Antonio Brown
Antonio Brown, a native of Cleveland, Ohio, began his dance training at the Cleveland School of the Arts and received his B.F.A. from The Juilliard School in 2007 under the direction of Lawrence Rhodes. While there, he performed works by Ohad Naharin, Jose Limon, Jiri Kylian, Eliot Feld, Aszure Barton, Jessica Lang, Susan Marshall and Larry Keigwin, among others. Mr. Brown has also worked with Malcolm Low/Formal Structure, Stephen Pier, Nilas Martins Dance Company, Sidra Bell Dance New York and Camille A. Brown & Dancers. In addition to working with the company, Mr. Brown also performs with Gregory Dolbashian's "The Dash Ensemble" and has choreographed on Verb Ballets, August Wilson Center Dance Ensemble, Perry Mansfield Performing Arts School and Camp and various other companies, schools and intensives across the United States. Antonio's work has also been shown at The Juilliard School, Center for Performance Research, NYC Summer Stage, Riverside Church and Hunter College. Mr. Brown joined the company in 2007 and is grateful to share his gifts and talents with the world.

Todd McGrain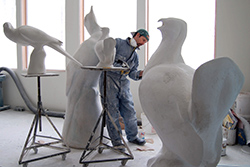 Todd McGrain, SUNY Potsdam class of 1983, is a sculptor, filmmaker, author, creative director and co-founder of The Lost Bird Project.
Todd McGrain's sculptures, memorials to five extinct North American birds, have been permanently placed at locations directlyrelated to each bird's decline.Groups of all five sculptures are currently on view at the Smithsonian in Washington, D.C., the John James Audubon Center at Mill Grove, the Peggy Notebaert Nature Museum in Chicago, and the National Wildlife Museum in Jackson Hole.McGrain's book about the personal journey, which led him to the extinction stories of the lost birds and the sculpture project that followed, was published in September, 2014.McGrain is a recent graduate of the School of Visual Arts, New York City in Social Documentary Filmmaking and is currently working on a film about the plight of forest elephants in central Africa. McGrain is the artist-in-residence at the Cornell Lab of Ornithology and the winner of the 2014 Audubon Award for Art Inspiring Conservation.
John Van Alstine
Born in upstate New York in 1952, John Van Alstine grew up in the southern Adirondack Mountains. After attending St. Lawrence University, Kent State University (BFA 1974) and Cornell University (MFA 1976) he joined the faculty at the University of Wyoming, Laramie and later the University of Maryland, College Park, to teach drawing and sculpture. In 1986 he left teaching full time. In 1987 he purchased a 19th century industrial complex on the banks of the Sacandaga River and returned to the Adirondacks where he now lives and works in the restored historic structure.
Van Alstine's work has been exhibited in this country, including more than 45 solo exhibitions, as well as in Europe and Asia. He has completed many major large-scale outdoor, site-specific commissions and a hard cover book released in 2001 recaps his first 25 years of work. Van Alstine's work is held in many private, public and corporate collections in this country and Europe.

Kate Gesel ?11

Kate Gesel is originally from Buffalo, New York and a current Master?s of Fine Arts candidate in the State University of New York at New Paltz Printmaking Program. Graduating in 2011, she has a Bachelor?s degree in Art Education from the State University of New York at Potsdam and Saint Lawrence University.

Her work has been exhibited nationally, most notably in, Boundless: New Works in Contemporary Printmaking, juried by Anne Coffin, director of IPCNY. In her work, Kate wishes to give the viewer a sense of existence in the environment she creates. By focusing on the concept of place and the bond that we all share with the earth, she hopes that viewers can live within the moments they see in her art.

Her goal is to create prints that are recognizably hers while also being collaborative and interactive, giving viewers the opportunity to create within her vision.

www.kategesel.com

 
Emily Glass ?06
Large panoramic paintings to small-enclosed charcoal and pencil drawings make up the current boundaries of my work. Paint lays in shapes and lines relying on traditional drawing methods to find and hold natural form and space. Within this parameter of paint and pencil you will see figures, often animals, interacting and ignoring each other, while cognizant of the viewer?s presence. The socially aware figures originate from the study of cadavers in biology departments, insects in university entomology museums and from local herd animals in paddock enclosures. The figures as well as their environment provide insight to the emotional space I construct. The cold labs, clean insect boxes and treeless fields of Kansas currently influence my chosen sparse landscape and allow the model to become the emphasized focal point. What is at stake within this inspection of the figure is the development of an individual on a two dimensional surface. I compile figures with an awareness of self and an active or passive outlook to the space around them. Some issues explored are ideas of self-image, social indifference, social indulgence and reactions to being watched. Momentum toward future work relies on excitement for anatomical muscle and bone, personal reflections on social interactions, and networking with local community members and academic departments to source models.

www.emilyglassart.com

 
Liza LaBarge ?12

My work emerges from a conjunction of realism with surrealism, presenting overly dramatized theatrical scenes. These large-scale charcoal drawings are highly influenced by the Freudian uncanny, where the familiar and foreign converge. Each piece strives to create a unique environment for the audience, where cognitive dissonance is enhanced through the paradoxical flux between attraction and intimidation. The aesthetics of detailed rendering and dramatic lighting combine with the engaging gaze of the figures to draw the viewer close, while the disturbing subject matter and surreal juxtaposition of imagery, create a sense of unease.

My most recent body of work explores contemporary topics of femininity. The series is positioned as commentary on the historic continuation of how the female body is maintained as object within contemporary American culture and how society trains females to objectify themselves. The work intends to confront the woman on a personal level, striving to impose self-reflection, and ultimately arouse a sense of empowerment. The work offers an atmosphere for scopophilia, yet the viewer will often encounter a gaze in return. I am interested in how the image of the woman?s body can be presented as both abject and object: simultaneously signifying male fear and desire. Laura Mulvey states, ?the look, often pleasurable in form, can be threatening in content, and it is woman as representation/image that crystallizes this paradox.? I am attempting to tackle the challenging modes of monstrosity, animality, and abjection in regards to womanhood, to engender new compelling ways of looking and new subversive ways of seeing the female figure.

www.lizalabarge.com

Debora Kuan
Kuan is a poet and writer. Her debut collection of poetry, XING, was published in October 2011 by Saturnalia Books. She is the recipient of a Fulbright creative writing fellowship (Taiwan), University of Iowa Graduate Merit Fellowship, Bread Loaf Writers' Conference scholarship, Santa Fe Art Institute writer's residency, and two Pushcart Prize nominations. Her poems have appeared in American Letters and Commentary, Boston Review, Conduit, Crowd, Fence, Indiana Review, New American Writing, The Iowa Review, and other journals. Her fiction is forthcoming or has appeared in Brooklyn Rail,The Iowa Review, Opium, The L Magazine, The Rumpus, and Wigleaf, and in 2010, she won The L Magazine's Literary Upstart Short Fiction award. She has also written about contemporary art, books, and film for Artforum, Art in America, Idiom, Modern Painters, Paper Monument, PDN, and other publications. She was both a nonfiction and fiction fellow at the CUNY Writers' Institute in 2010-2012, and has taught at the University of Iowa, The College of New Jersey, and New York Institute of Technology. She works at an educational nonprofit in New York City.

Susi Wyss
After graduating from Vassar College, Wyss pursued a career in international health, hoping she could make a positive difference in places like the ones she'd seen as a child. She earned a master's degree in public health from Boston University and joined the Peace Corps, working on a child survival project in the Central African Republic. For the next 16 years, she visited and worked in more than a dozen African countries, eventually living for another three years in Abidjan. It was during this second stint in the Ivory Coast that she began writing fiction, much of it inspired by people she'd met, stories she'd heard, and experiences she'd had in Africa. Upon her return to the U.S., while continuing her work in international health, Wyss earned a master's degree in fiction writing from Johns Hopkins University. She subsequently took a two-year sabbatical to writeThe Civilized World, a novel-in-stories set in Africa that was published by Henry Holt in April 2011.

Ian Stansel
Stansel is a writer, editor, and teacher whose collection of stories,Everybody's Irish, is available from FiveChapters Books and was shortlisted for the PEN/Robert W. Bingham Prize for debut fiction.He holds an MFA in fiction writing from the Iowa Writers' Workshop and a PhD in literature and creative writing from the University of Houston, where he was the editor of Gulf Coast. His fiction has appeared in numerous literary journals, includingPloughshares, Ecotone,Cincinnati Review,Antioch Review, andSycamore Review.His stories have been selected for inclusion in the 2012 and 2013 editions of theNew Stories of the Midwestanthology series and shortlisted forBest American Short Stories.His nonfiction has appeared on Salon and The Good Men Project. A former blogger for Ploughshares, he currently he serves as fiction editor of the online literary journal Memorious.

Rodrigo Dorfman
Dorfman is a multimedia filmmaker documenting the emerging Latino community in North Carolina through a series of educational films, Angelica's Dreams and Roberto's Dreams and VIVA LA COOPERATIVA - a feature documentary on the history of the first Latino Credit Union in the US. As a multimedia producer he has created a series of online documentaries: Gnawa Stories; Kid Gloves for handling abducted children; American Shadows for POV; In the Footsteps of September 11; Latin American Multimedia Initiative."
As a screenwriter, Rodrigo Dorfman won, with his father Ariel Dorfman, the 1996 Writer's Guild of Great Britain Award for best television screenplay for a BBC VJ Day special called Prisoners in Time starring John Hurt. That was followed in 1998, with Deadline, a movie for Channel 4, England. It was shown as part of the 50th anniversary celebration of the Declaration of Human Rights. And Konfidenz, a radio play for the BBC, which he co-wrote with his father, was aired in England in Spring 2001. He also co-wrote Shaheed, for the BBC, a teleplay on suicide bombers, Los Angeles Open City, a pilot for HBO on Latinos in Los Angeles and Blake's Therapy for Salma Hayek's company Ventanazul.
Rodrigo's first feature documentary Generation Exile premiered at Full Frame in 2010 and then went on to screen at the SANFIC 6. Rodrigo won the Full Frame Jury Award for the Best Short in 2011 for One Night in Kernersville.
MC Hyland
Hylandis the author ofNeveragainlandand several chapbooks includingTOOTHLESS ALTAR(Shirt Pocket Press),Every Night In Magic City(H_NGM_N), andResidential, As In(Blue Hour Press). She holds MFAs in Creative Writing and Book Arts from the University of Alabama, runs DoubleCross Press with Jeff Peterson, and is a PhD student at NYU, where she currently studies walking, typewriters, poetics, and Romanticism.

Maestro Joseph Flummerfelt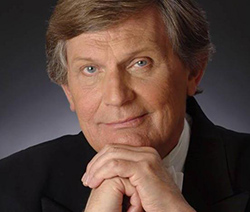 Musical America's 2004 Conductor of the Year, Joseph Flummerfelt's musical artistry has been acclaimed in many of the world's concert halls for nearly 40 years. He is founder and musical director of the New York Choral Artists, is an artistic director of Spoleto Festival USA, and for 33 years was conductor of the world-renown Westminster Choir. A gifted orchestral conductor, Maestro Flummerfelt has conducted over 50 performances with the Spoleto Festival Orchestra in Italy and in the U.S. He has also appeared as guest conductor with the New Jersey Symphony Orchestra, Orchestra of St. Luke's, the Juilliard Symphony Orchestra, and the San Antonio and Phoenix Symphonies. In 1988 he made his New York Philharmonic debut with a performance of Haydn's Creation, and in 2001 he conducted the world premiere of Stephen Paulus' Voices of Light with the Philharmonic and the Westminster Choir.

H. Bart McGeehon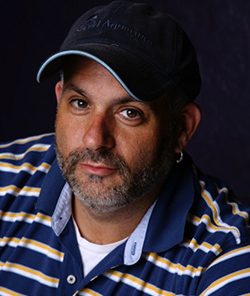 McGeehon currently serves as the Director of Production and Safety Program Administrator for Dallas Children's Theatre, where his design work has included, Night of the Living Dead,Rapunzel! Rapunzel! A Very Hairy Fairy Tale,the World Premiere ofTeen Brain: the Musical, 'Twas the Night Before Christmas, and The Cat in the Hat.In addition to DCT designs his design work is being seen on many area stages, including his award winning projection design forSongs for a New WorldandSOHO Cindersat Uptown Players,A Midsummers Night Dreamat Shakespeare Dallas, andAlbert's Anthologyat Theatre Britain. Bart is currently working on the Texas Premiere of Hedwig and the Angry Inch.Prior to his move back to the Dallas, he spent 7 years as the Production Manager and Resident Scenic and Lighting Designer for Honolulu Theatre for Youth in Hawaii, where he designed over 50 productions.Bart's design work has been also been seen in regional theater companies all over the United States,Canada, and abroad. Some of his designs include the Off- Broadway production ofAlways . . . Patsy Cline, theMiss America Pageantand the National Tours ofCurious George, The Little PrinceandTheAdventures of Robin Hood.He has collaborated with some of the nation's leading playwrights including Elizabeth Wong (Dating and Mating in Modern Times andThe Magical Bird), Steve Murray (Rescue and Recovery) and Tony Award winners Arthur Kopit(The Phantom of the OperaandNine)and Robert Schennken(TheKentuckyCycle).
Jamie H. J. Guan
Jamie H. J. Guan graduated from the Beijing Institute for Performing Arts and performed with Peking Opera Troupe No.1 for 15 years specializing in martial arts roles. He made his Broadway debut as actor and choreographer in the Tony award winning M. Butterfly and choreographed Warner Brothers' feature film, M. Butterfly
Mr. Guan was Fight Instructor for Soul Possessed, and was the Chinese Opera Consultant for Dreams - two shows written, choreographed and directed by Debbie Allen and presented at The Kennedy Center. He has continued his collaboration with Debbie Allen, most notably as associate choreographer of a live, globally broadcast Chinese martial-arts dance performance celebrating the film Crouching Tiger, Hidden Dragon for the 73rd Annual Academy Awards.
In association with AtlanticPacific Music, Inc., Mr. Guan produced the first tour in 20 years of the Beijing Opera Theater Troupe with a company of 36 artists and musicians, appearing in Atlantic City and New York's Lincoln Center.
Jamie H. J. Guan has performed and choreographed nationally and internationally in theater, film and television.

Margie Hughto
Margie Hughto is a professor of ceramics at Syracuse University's College of Visual and Performing Arts. Her work has been included in numerous exhibitions since the 1970s, and she has installed permanent public artworks across the country, including a monumental ceramic painting located in a subway stop in Buffalo, New York, and Trade, Treasure, and Travel, a series of ceramic tile murals for the New York City Metropolitan Transit Authority (MTA), which were installed in 1998 two levels beneath the World Trade Center at the Cortlandt Street subway station. The tiles miraculously survived the 9/11 terrorist attacks and were re-installed in September 2011. A site-specific public work by Hughto will also be featured in Syracuse's new Public Transportation Common Center, set to open in 2012. She recently presented her first site-specific museum installation, A Fired Landscape, at Syracuse's Everson Museum of Art. The piece spanned 50 feet of gallery wall space.

Jan Swafford
Jan Swafford's music has been played around the country and abroad by ensembles including the symphonies of St. Louis, Indianapolis, and the Dutch Radio; Boston's new-music groups Musica Viva, Collage, and Dinosaur Annex; and chamber ensembles including the Peabody Trio, the Chamber Orchestra of Tennessee, and the Scott Chamber Players of Indianapolis.
Over the years his music has evolved steadily, but in all its avatars his work is forthrightly expressive, individual in voice, and steadily concerned with lucidity of texture and form. Beneath the surface there are contributions from world music, especially Indian and Balinese, and from jazz and blues. The titles of his works?including Landscape with Traveler, From the Shadow of the Mountain, and The Silence at Yuma Point?reveal a steady inspiration from nature. The composer views his work as a kind of classicism: a concern with clarity and directness, pieces that seem familiar though they are new, that aspire to sound like they wrote themselves.
Also a well-known writer on music, Swafford is author of biographies of Ives, Brahms, and Beethoven. His journalism appears regularly in Slate. He is a long-time program writer and preconcert lecturer for the Boston Symphony and has written notes and essays for the orchestras of Cleveland, Chicago, San Francisco, and Toronto.

Danielle Johns '05
Danielle Johns, a native of Potsdam, NY, received her BFA from the State University of New York at Potsdam in 2005 and an MFA in Printmaking from RIT in 2009.She currently teaches in the art department at the State University of New York at Potsdam, and exhibits her drawings and prints nationally.
In her most recent body of work, a juxtaposition between the mundane and the beautiful coalesce to represent the ephemeral nature of what surrounds us.The lack of environment is a suggestion toward a mentally and psychologically charged space; a space that alludes to the impermanence of our thoughts and of our memories.
Nicole Cabell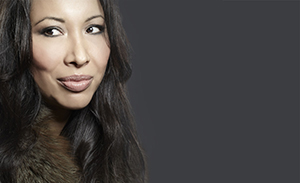 Nicole Cabell, is one of the most sought-after lyric sopranos of today. She won the 2005 Winner of the BBC Singer of the World Competition in Cardiff and Decca recording artist, Her solo debut album, ?Soprano?, was named, ?Editor?s Choice? by Gramophone and has received an incredible amount of critical acclaim and several prestigious awards: the 2007 Georg Solti Orphe d?n>Or from the French Acadmie du Disque Lyrique and an Echo Klassik Award in Germany. Her performance history is extensive and far-flung, just as the number of skilled orchestras, singers and maestros she has worked with over the seasons.
Molly Jo Burke
Burke is a multi-media sculptor whose work ranges from the delicate and subtle to larger installation work. Maintained throughout both is the intense attention to detail and mimicking of the repetition found in nature. Her work focuses on transparency and an object?s ability to change from fluid to solid. She lives and works in Columbus, Ohio. She received her MFA from The Ohio State University in Glass (2009) and now works for Columbus College of Art & Design as the Assistant Director of Graduate Studies.
Craig Verm
Craig Verm is a baritone rapidly gaining recognition in the opera world. He has preformed in numerous roles showcasing his powerful and expressive voice as well as his riveting dramatic portrayals. He received his Master of Music from the University of Cincinnati College Conservatory of Music. He was graduated cum laude from Rice University?s Shepherd School of Music. He was also a 2006 national semifinalist in the Metropolitan Opera National Council Auditions and is a former member of the young artist programs of Santa Fe Opera and Cincinnati Opera.

Maryann Evans

I am interested in pottery that is spirited - functional wares made from stoneware, raku and porcelain that weave into our daily
lives through use. My passion for pottery began at SUNY Potsdam under the guidance of Arthur Sennett and has inspired my 24 year pottery journey of teaching, creating and selling. I love that I'm using my college education everyday. My training together with my professional practice have introduced me to a wide community of talented artisans, which ultimately led to the creation of Mare's Wares Arts Fest, an event in the park like property behind my studio/gallery that allows all of us who participate to share our talents with an appreciative audience.