"You can't get a bigger or better playground than the Adirondack State Park."
~ SUNY Potsdam Music Business major, Jared Brickman
And let's face it, do we ever truly lose our desire to go to the playground?
Potsdam is nestled in the scenic North Country and within this region, we are fortunate to have the sprawling and picturesque Adirondack Park located a mere 15 minutes away.
The Adirondack Park offers visitors:
6 million acres worth of an all-nature "playground" complete with mountain summits, forest glades and hidden waterfalls
46 high peaks complete with spectacular fall foliage
free access to more than 2,000 miles worth of hiking trails
100 campgrounds and many four-star resorts including rustic lodges and log cabins
artisans whose crafts are steeped in the Adirondack culture and way of life
a complete mixture of seasonal sporting opportunities-from skiing and sledding to fishing and mountain climbing
Visit their official site to learn more about the Adirondacks.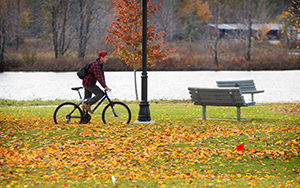 "Devil's paintbrush crowds sedges. Buttercup stretches against Deptford Pink.

Raspberry's back rests against the slender sides of serviceberry while rat snake slides beneath granite. Wood frog folds himself into clubmoss, lichen into birch shade.

Sitting here for more than an hour, I still haven't bothered to raise my head."
 -Todd Davis, Views from Mount Arab
 featured in the Blueline, Vol. XXIX