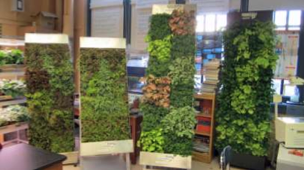 Vertical Walls, the New Graffiti
George Irwin | Tuesday, April 22, 2014 | 1 p.m. Fireside Lounge
Biography:
George Irwin is founder of Green Living Technologies International, LLC (GLTi), a private company manufacturing patented Green Living Roofs and Vertical Gardens. Mr. Irwin is CEO of the GLT Institute, LLC providing R&D, education, curriculum, and authentic practicum experience for the education, professional and construction sectors. Green Living Technologies is a global leader, and resource for the application of green technologies around the world. His industry expertise and authority on the subject lead him to publish several articles featured in TIME, Fortune Magazine, and National Geographic.
www.agreenroof.com
George@agreenroof.com
Improving Building Performance and the Health of the Planet
Mike Richter | Tuesday, April 1, 2014 | 7 p.m. Maxcy Hall
Biography:
Mike enjoyed a successful 15 year professional athletic career for the New York Rangers where he was a three time NHL All-Star and Stanley Cup Champion. Mr. Richter represented the United States on numerous international competitions including three Olympic teams, earning Silver in 2002.
After retiring from the NHL, Mr. Richter enrolled in Yale University and received his degree in Ethics, Politics, and Economics with a concentration in Environmental Policy. In 2007 he helped found Environmental Capital Partners, a $100M Private Equity Fund focusing on resource efficiency.
Mike's current venture, Healthy Planet Partners, finances and manages the deployment of renewable energy technologies and energy saving retrofits for commercial facilities of all sizes in order to reduce both their operating costs and ecological footprint.
Educating Our Next Climate Leaders
Brian Stilwell | Tuesday, February 25, 2014 | 6 p.m. Knowles Conference Center
Brian Stilwell - Northeast Program Director, Alliance for Climate Education (ACE) www.acespace.org
Biography:
Brian Stilwell joined the ACE team in February 2011 and, since then, has educated over 40,000 students across New England and worked with over 60 ACE Action Teams (environmental clubs) to complete more than 100 carbon-reducing projects. A 2009 graduate of Cornell University with a dual degree in Natural Resources and Biology & Society, Brian has experience working on climate change with organizations ranging from the Sierra Club to the U.S. Fish and Wildlife Service. ACE is the national leader in high school climate science education, providing a free, award-winning assembly on climate science and solutions. Through a focus on science, solutions, and leadership, ACE is building a groundswell of youth who will confront the climate crisis and make sustainability the norm in their personal lives, careers, and communities. Headquartered in Oakland, CA, ACE currently operates in 21 states nationwide, and has reached over 1.2 million students at 1,700+ schools in under three years.
Einstein's Adirondacks: Communication Climate Change Through Music and the Arts
Dr. Curt Stager | Tuesday February 11, 2014 | 6 p.m. Knowles Conference Center
Biography:
Curt Stager is a Paleoecologist and science writer with a Ph.D. in biology and geology from Duke University. A world authority on the climatic history of Africa, he has also investigated El Nio in Peru, lake and climate history in the Adirondacks, exploding lakes in Cameroon, and bat pollination of flowers in Melanesia. Stager has published numerous papers in major journals including Science and Quaternary Research, and served as expert reviewer for the Intergovernmental Panel on Climate Change. In addition, he has a long record of writing for general audiences in National Geographic, Fast Company, Adirondack Life, and elsewhere, and has co-hosted Natural Selections on North Country Public Radio since 1989. His latest book, Deep Future (St. Martin's Press, 2011) examines the long-term future of human-driven climate change. A professor of Natural Sciences at Paul Smith's College, NY, Stager is also a research associate with the Climate Change Institute, University of Maine, Orono, where he continues to investigate the history of climate in Africa, the Americas, and the polar regions. In his spare time, he has been known to inflict his guitar and banjo-playing on people, as well.