Department of Modern Languages
Dr. Liliana Trevizán
Dr. Liliana Trevizán, a Spanish professor in the Department of Modern Languages, has been educating SUNY Potsdam students for the past 25 years, guided by her strong convictions for democracy and equality... read more.
"Cultures of Latin America" Students
During the fall 2017 semester, SUNY Potsdam Spanish students raised funds for rebuilding efforts in Mexico & Puerto Rico... read more.
There are clear advantages to preparation in more than one language for students, particularly now that effective communication is such a valuable commodity in the workplace.
For example, as the presence of other languages in the U.S. population grows, and as air travel and telecommunications bring people from different parts of the world together, being able to think and operate in another culture opens many opportunities.
The SUNY Potsdam Modern Languages major combines well with other disciplines, providing graduates career opportunities in fields like public relations, social services, education, anthropology and the law. Many French and Spanish graduates continue their studies at the graduate level while others are hired by employers in government and in business - all of which are actively seeking to meet the need for language and culture skills in the decades ahead.
For more information, contact the Department of Modern Languages office at (315) 267-2792.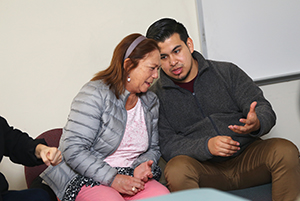 Yonie Montes, right, a junior at SUNY Potsdam translates for Griselda Aguilera, a former Cuban Literacy Campaign volunteer, during her visit to SUNY Potsdam on Friday, Feb. 10, 2017... read more.