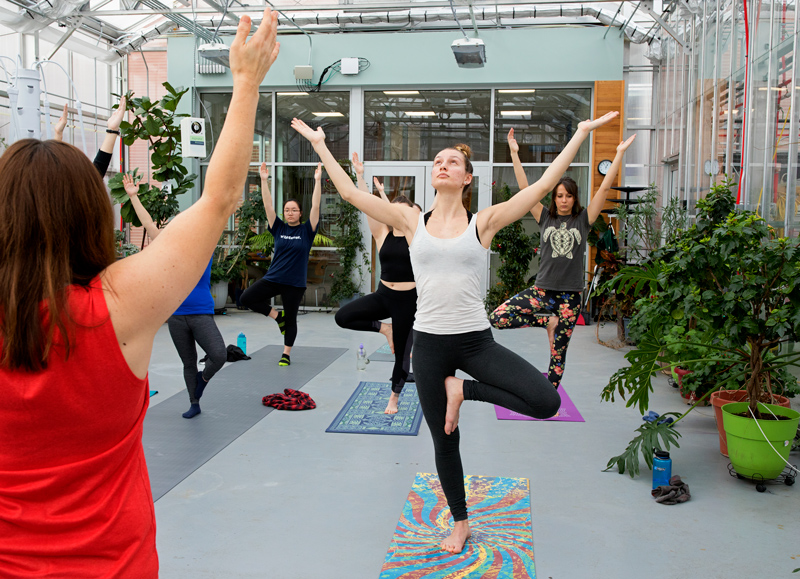 Picture yourself surrounded by plants with the calming sound of water all around. You could be on a Caribbean Island, but when you open your eyes, you find yourself inside the WISER (Wagner Institute for Sustainability and Ecological Research) Greenhouse at SUNY Potsdam. That's just what eight students experienced during the first ever yoga event at the greenhouse on Jan. 30, when they congregated on the heated floors to be led by Yoga Instructor Julie Rapczynski.
"The sound of the water is very soothing. I always tap into the breath, but the option is that you can focus on that water, it's white noise, it's constant, it's steady…Trees give off oxygen and we're trying to breathe more so I felt like I could take deeper breaths," said Julie Rapczynski, student affairs program coordinator at SUNY Potsdam.
Jessen Swider '19, a senior majoring in biology, said that yoga is very important to her as a student. "It provides me with a window of time in which I am allowed to relax and release all of the constant stressors of a challenging and demanding program. And with limited time available to spend outdoors, the greenhouse setting allows me to feel in touch with nature. It's neat to think I am breathing in the oxygen that the plant right next to me released," she said.
Yoga will be offered on Tuesdays at 12:30 p.m., through March 20.
Join us for a visual tour of yoga in the WISER Greenhouse (click on the gallery to the right).