Student and Faculty News from the Music Education Department
Undergraduate Music Education Students Research Project
Undergraduate music education students in collaboration with their professor, Dr. Caron Collins, conducted an action research project to study the application of Culturally Responsive Teaching (CRT) with their elementary band students at St. Mary's School in Canton and home-schooled students taught at Crane. The student researchers gathered information from their students' questionnaires on personal interests, backgrounds, and musical preferences. From this information, the student researchers designed a CRT curriculum and taught student-centered musical experiences using the text Curious, Collaborative Creativity: A Guide to Transforming Music Ensembles (Collins & Gilbert, 2016).  Results from their study indicated that their students were more engaged in the learning process while improving performance skills. They shared their study at the 2018 National Association for Music Education (NAfME) Research Conference in Atlanta, Georgia.  Pictured in front of their NAfME research poster are, from left to right, Malcom Kane, Danielle Holmes, Grant Schmidt, and Mabel Burgos.
Students and Faculty Present at NAfME National Research and Teacher Educator Conference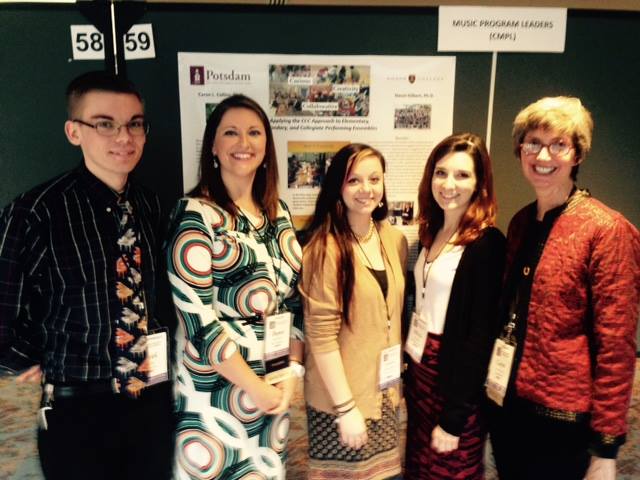 Crane students Derek Bull, Jaqueline Saunier, and Olivia Rehm presented alongside Crane professor Dr. Caron Collins and Dr. Danni Gilbert (Doane College) at the NAfME National Research and Teacher Educator Conference in Atlanta, March 18, 2016, another example of the research opportunities undergraduate students have at SUNY Potsdam. The session was on the "Curious, Collaborative, Creativity" approach to ensembles. Many important music educators and researchers spoke with the team, including the president of NAfME and renowned researcher and author, John Kratus.
We are thrilled and honored to have Crane represented at NAfME presenting on innovation in music education. Congratulations!
Crane Faculty and Alumni join in professional development workshop for cooperating music teachers at 2015 NYSSMA Winter Conference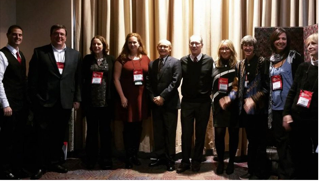 At the 2015 NYSSMA Winter Conference, music education faculty and alumni from the Crane School of Music joined forces and presented a professional development workshop for NY State music teachers serving as cooperating teachers for student teachers in music teacher education. With the rise in professional standards, increased certification requirements, and more rigorous assessments such as the edTPA in pre-service music teacher education, serving as a cooperating teacher has become an even more important component of the music teacher education program than in the past. This workshop focused on developing cooperating teachers' mentoring expertise and building strong bridges between campus-based learning and public school-based learning. The workshop was part of the Crane/NYSSMA Showcase, and served participants well. As one attendee, said, "Thanks to the music education faculty at Crane for providing leadership here. I know of no other college or organization in the state dedicating such expertise to in-service development of music teachers in the field."
Pictured L to R: Phillip Greco, Emmett O'Leary, Julie Bannerman, Krista Easton, Mark Campbell, Tim Savage, Melinda Feldmann, Caron Collins, Jennifer Kessler, Kathy Hubbard
Crane Well Represented at The Society for Music Teacher Education Conference
Crane music education faculty, alumni, and former faculty were well represented at the SMTE (The Society for Music Teacher Education) Conference at the University of North Carolina Greensboro (Sept. 17-19, 2015).
Crane Faculty and Alumni
1. What's Being a Digital Native Got To Do With It? Preservice Music Teachers - Perceptions of Music Technology for Teaching and Learning Julie K. Bannerman and Emmett J. O'Leary, The Crane School of Music, SUNY at Potsdam (both)
2. Learning to Teach Music: A Critical Review of Quantitative Research in Preservice Music Teacher Education Linda K. Thompson, Lee University (former Crane faculty member), and Mark Robin Campbell, The Crane School of Music, SUNY at Potsdam
3. What Cooperating Music Teachers Say about Educative Mentoring: A Focus Study Research Project Joseph Michael Abramo ('99), Neag School of Education, University of Connecticut, and Mark Robin Campbell, The Crane School of Music, SUNY at Potsdam
4. Four Perspectives on Collaborative Action Research in K-12 Music Education Mark Robin Campbell, The Crane School of Music, SUNY at Potsdam Melinda Feldman ('06), Vernon-Verona-Sherrill Schools, Verona, NY Martha K. Group, Superintendent of Schools at Vernon-Verona-Sherrill Schools, Verona, NY Kathryn Hess ('13), Vernon-Verona-Sherrill Schools, Verona, NY
Alumni
5. Preparing Preservice Music Teachers for Teacher Evaluation During Student Teaching Joseph Michael Abramo ('99) and Cara Faith Bernard, Neag School of Education, University of Connecticut
6. Preservice and Elementary Students Form an Online Music-Making Community Joseph Michael Abramo ('99), Neag School of Education, University of Connecticut, and Natalie Gibbs, Montgomery County Public Schools
Former Crane Faculty
7. The Use of Improvisation in Undergraduate String Methods and Techniques Courses Nancy S. Conley, Clayton State University
8. Music Teacher Experiences with Reflective Practice During an MME Graduate Course Martina L. Miranda, University of Colorado-Boulder
Here is a link to the complete conference schedule. http://smte.us/conferences-?/2015-symposium-detail-schedule/
Anthony Ravinsky (BM Mus Ed '03) is District 2014-2015 "Teacher of the Year."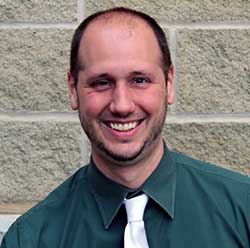 Congratulations to Anthony Ravinsky (BM in Music Education, '03). The Cornwall Central Teachers Association in Orange Country, New York, recently recognized Anthony as the 2014-2015 "Teacher of the Year."
Bringing his exceptional background in music education to the district, Ravinsky has built the Cornwall Central High School choral offerings into an outstanding program, which includes approximately 250 students, and provides educational opportunities for a huge and diverse population. Among his many talents in both music and music theater, Ravinsky was recognized for a number of professional accomplishments... read more.
Dr. Joseph Abramo (BM Mus Ed '99) publishes article on exceptionality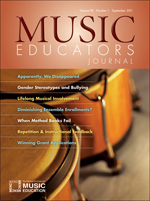 Congratulations to music education alumnus Joe Abramo. His article on "Gifted Students with Disabilities: 'Twice Exceptionality' in the Music Classroom" was published in the 2015 June issue of the Music Educators Journal. In the article Joe identifies that music educators teach students who are both gifted and possess a learning disability - what is commonly referred to as "twice exceptionality." Joe describes some characteristics of twice-exceptional students, the challenges these students often face in school, and some strategies music educators can use to differentiate instruction and curricula. Joe is currently an assistant clinical professor of music education at the University of Connecticut.
Dr. Campbell and Dr. Abramo (BM Mus Ed 99') co-author article to be published
May 5, 2015
An article by Dr. Mark Robin Campbell and Crane alumnus Dr. Joseph Abramo (BM in Music Education '99) is scheduled for publication in the Fall 2015 issue of Arts Education Policy Review. The piece, "Four notions on the qualities of cooperating teaching," develops criteria for the selection, professional development, and assessment of cooperating music teachers. Throughout the paper, Campbell and Abramo discuss how (a) knowledge of educational theory and practice, (b) context, (c) student teachers' personal narratives, and (d) reflection on practice can be used to guide and facilitate student teachers' development in music teaching. Specific strategies for modeling and mentoring are provided and are linked to current music teacher education accreditation standards and assessments. Dr. Abramo is an assistant professor of music education at the University of Connecticut. Dr. Campbell is a member of the music education department here at the Crane School.
Crane students in DC making a difference in Music Education
May 4, 2015
Crane music education students Lukas Gruber and Fred Volz made a difference this past summer by attending the 2014 NAfME Collegiate Advocacy Summit in Washington DC. At the Advocacy Summit, they met with New York State senators and representatives on Capitol Hill to discuss the importance of music education and receive leadership training in being strong advocates for public school music.
According to Lukas, a key concern that policymakers need to understand is that "music education should always be a part of the core curriculum. Music is fundamental to a complete education, without music children receive an impoverished education.? Lawmakers? who advocate for this rationale help build a strong position for music education in the schools. While at the summit, Fred and Lukas had opportunity to network with state and national leaders, as well as develop relationships with other music education majors from around the United States. Both said that it was quite revealing when it comes to learning the "behind the scenes" work that happens in advocacy work. It was an experience they said they would use in their careers as future music teachers.
Lukas and Fred were the only collegiate members from New York State to attend. You can check out their picture in the March 2015 Music Educators Journal(p. 88). You can also hear Fred talk about his experience and why every future music teacher should consider attending the summit on the official NAfME site (http://hillday.nafme.org). The upcoming 2015 Summit is June 24-26.
General Music Workshop focuses on Positive Environments for Learning
April 25
Phil Greco, Crane alumnus and current Music Teacher at Farmingdale Public Schools, presented a Professional Development- Continuing Education Workshop at Crane. The focus of the course was Classroom Management: Creating Positive Environments for Learning.
Grand Street Campus High School School Band visits Crane
April 16-17
A visit facilitated by Music Education Professor, Dr. Baxter, the Grand Street Wind Ensemble from Brooklyn, NY, took place April 16-17, 2015. Highlights of their visit included a performance with the Crane Symphonic Band, interaction with Crane students, and a clinic with Crane's Professor Doyle. The Grand Street Wind Ensemble is conducted by Jeff W. Ball.
Early Childhood Music Education Interns at SPCCC Family Art Night
April 16, 2015
Early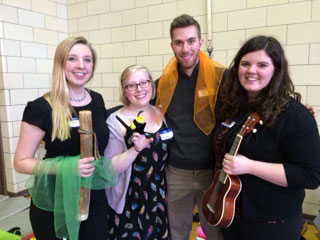 Childhood Practicum students Kody Andreas, Jenelle Yeoman, Corinne Bouchard, and Nicole Fedorchak facilitated musical experiences and sound exploration during the SUNY Potsdam Child Care Center's Family Art Night in the Merritt Gym. All four Music Education majors are students in the Early Childhood Practicum this semester, teaching music twice a week at the Child Care Center in classrooms with children ranging in age from one year old to five years old. The Early Childhood Music program is supervised by Crane Music Education Faculty Julie Bannerman.
Crane's ACDA Chapter presents: Dr. David Fryling Residency
Crane's active chapter of the American Choral Director's Association proudly presents Dr. David Fryling. Special events listed below.
Since the fall of 2001, Dr. Fryling has held the position of director of choral activities at Hofstra University, where he conducts both the select Hofstra Chorale and Hofstra Chamber Choir and teaches beginning and advanced studies in choral conducting, as well as graduate-level workshops in choral conducting and choral literature. In the fall of 2013, David foundedeVoco Voice Collective,a chamber choir comprising approximately forty highly select singers, conductors, teachers, and other young professionals from across Long Island. From 2007 to 2013 David served as Coordinator of the Vocal Artists program at the Interlochen Center for the Arts in Michigan, where he was conductor and music director of the World Youth Honors Choir and Festival Choir & Orchestra. His recent invitations include various all-state and regional honor choirs, master classes, workshops, and adjudications throughout New York and New Jersey (All-State), Vermont (New England Music Festival), Connecticut, Pennsylvania, Virginia, North Carolina, Michigan, Louisiana, Texas, Utah and Alaska (All-State). He is president of ACDA's Eastern Division.
Music Education Faculty Member Caron Collins to present at Suncoast Music Education Research Symposium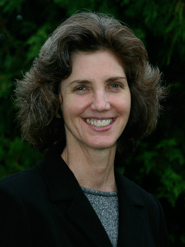 Caron Collins, Associate Professor of Music Education has been selected to present a paper at the tenth biennial Suncoast Music Education Research Symposium (SMERS) February 5-7, 2015 in Tampa, Florida. This international symposium will bring together researchers and educators from a broad range of disciplines, including but not limited to cognitive development, psychology, sociology, aging studies, early childhood education, K-12music, neuro-psychology, and emerging fields such as mind brain education. The symposium will foster national and international collaborations on research projects that serve to advance music learning at all stages of the lifespan as well as to advance public understanding of research-to-practice. Dr. Collins' paper presentation, "Curious Collaborative Creativity (CCC): Transforming Traditional Ensembles into Innovative Communities", will share the tenets of the philosophy, ongoing research, and examples of the CCC application within the SUNY Potsdam Campus-Community Band.
For more information go to http://cmer.arts.usf.edu/content/templates/?a=901&z=137
Music Education Faculty Present at 2014 NYSSMA Winter Conference
Thursday, December 4
Donald George and Jeff Francom presented "Igniting Creative Energy: Helping your students release their artistic expression"
Friday, December 5
Tracy Wanamaker presented "The most important gig: Music therapy as a career choice"
Tracy Wanamaker presented "Behavior disorders: Strategies for the music educator"
Saturday December 6
Mark Robin Campbell, John Bernstein, Melinda Feldman, Kathryn Hess, and Matthew Wurtzel presented "Music teacher research in action: K-12 students' opinions on interestingness in a music curriculum"
Poster Session featured:1) Mark Robin Campbell, John Bernstein, Melinda Feldman, Kathryn Hess, and Matthew Wurtzel "K-12 Students' opinions on interestingness in a music curriculum"2) Emmett O'Leary "Economic Resources, Geographic Location, School Demographics, and Success in the Bands of America Grand National Championships: Community Profiles of Participating Bands from 2002 - 2013"
Phoenix Club Tours to Syracuse, NY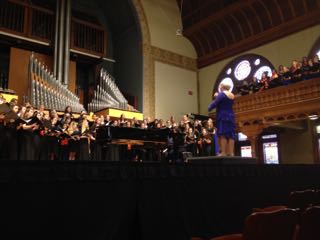 Congratulations to Dr. Reames and the Phoenix Club! The Pheonix club toured to Syracuse on October 24-25, 2014 to participate in two choral workshops at local high schools and to sing in the Syracuse University Women's Choral Festival under festival director Rebecca Rottsolk. The choral workshops were at East Syracuse Minoa Central High School with Crane alumnus Adam Shatraw and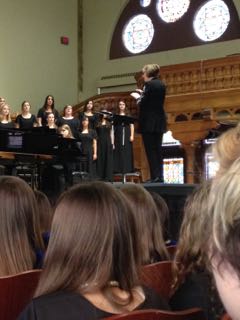 at Fayetteville-Manlius High School with Shawn Hebert (Crane, 94'). Singers reflected on their experience:
"Going to the high school was one of my favorite parts of the tour. Being able to work with and perform for the students was so much fun and inspiring! It made me even more excited to become a music teacher someday. We not only were able to share with the students our talents and ideas about music, but also had time at the first school to ask the teacher what his journey has been like and what kind of advice he could give us. That was such a helpful and wonderful experience I will never forget."
"It was really interesting to visit new schools and see what other high school kids were doing at different parts of New York State. I love how the music really united us and we learned so much about each other. It was also really inspiring to see crane graduates as vocal teachers in their schools. The knowledge they gained from Crane made them excellent chorus conductors today, which is wonderful."
"I was more than extremely honored to be permitted to tour with the Phoenix Club and its talented members, this past weekend in Syracuse. As an intended Crane student, this trip was a wonderful learning experience and it felt empowering to stand among so many talented women."
Crane Alumnus Justin Glodich (BM Mus Ed '08) to present at National ACDA Conference
Congratulations to Justin Glodich, 2008 graduate from Potsdam in Music Education, who was selected to present at the 2015 National American Choral Directors Association Conference in Salt Lake City in February 25-28, 2015.His session will focus on vocal percussion and its place in contemporary vocal music. Justin Glodich is currently the K-12 Choral and Theatre Director in the Eldred Central School District in Eldred, NY. He holds a Bachelor of Music Education from The Crane School of Music at Potsdam College, and a Masters of Music Education, Choral Conducting from TheHarttSchool of Music at the University of Hartford.At Eldred, Justin is responsible for five choral groups, including the Eldred Key Elements, an a cappella group consisting of students in grades 7-12. He is an active member of the New York State School Music Association (NYSSMA), the American Choral Directors Association (ACDA), and the New York State Theatre Educators Association (NYSTEA). He was recently selected as the New York Chapter Representative of the ACappella Education Association. Justin has toured across the country with The Fault Line, giving performances and workshops to a wide array of choral groups, and has presented lectures on ContemporaryACappella in the Choral Classroom.
Future music teachers design and offer "Sound Experience: Musical Exploration" at the North Country Children's Museum
Graduate and undergraduate music education majors designed and coordinated a musical sound exploration for children as part of the North Country Children?s Museum fall events on October 18, 2014. Thirty-five children, ranging in age from 4 ? 9, and their parents explored how sound is expressive. They listened to instruments, made their own instruments out of recycled materials, and created musical soundscapes patterned after the work of Canadian composer R. Murray Schafer. Information about the North Country Children's Museum can be located on their website (http://www.nccm.us).
The event was designed and coordinated by Meghan Gallagher, Lindsay Burress, Kayla Fraser, Allison Prestia, and Kevin Marcinko. Also assisting were members of Crane's collegiate chapter of National Association for Music Education (NAfME - http://www.nafme.org/) - Kyle Chamberlin, Cody Chamberlin, Ryan Lupka, Lucas Gruber, and Fred Volz. Retired Potsdam school district music teacher Debby Nikkari and Crane Music education faculty member Dr. Mark Campbell also joined in the day?s events.
New Oxford University Press book chapter features Music Education at Crane - Fall 2014
A chapter entitled, "Inquiry and Synthesis in Music Teacher Education" written by Dr. Mark Robin Campbell appears in a new edited Oxford University Press book devoted to "Promising Practices in 21st Century Music Teacher Education." The chapter describes innovative curricular and instructional practices found within the music education program at the Crane School of Music.
Illustrated within the chapter is the work of three recent alumni: Kathryn Hess, BM '13; Will Sutton,BM '13; and Matthew Wurtzel, BM '13.The book also contain a chapter written by alumnus Evan Tobias, BM '99 (now an assistant professor of music education at Arizona State University).The work of Julie Bannerman (a recent faculty hire in the music education department) is also mentioned in another chapter in the book.
Peter Webster of the Thornton School of Music, University of Southern California, has called this text "the most important book in music teacher education for North America in over fifty years."
Randall Allsup of Teachers College Columbia University notes, "this book is for change agents by change agents vividly illustrating new ways to teach and learn music."
Betty Anne Younker of the University of Western Ontario writes, "the authors require us to examine the profession through lenses that embrace tradition and innovation, and demand us to cultivate habits of mind that engage with agency."
The book is now available.
LINK Info: http://www.amazon.com/Promising-Practices-Century-Teacher-Education/dp/0199384754
New Styles and Strategies: Creating Musical Collaboration in School String Programs -  Kilmer Project Summer 2014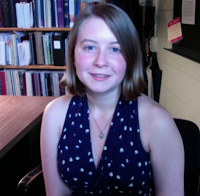 Ten years ago, the primary professional organization in string teaching, the American String Teachers Association (ASTA) enlarged its scope to include what it called alternative styles, more recently called eclectic styles. For this project, I will be researching eclectic styles of string playing and participate in a workshop on teaching eclectic styles given by Julie Lyonn Liebermann, a leader in the field of eclectic styles. I will put together a resource kit of materials that I find about playing and teaching eclectic styles and create a workshop that I will share with colleagues and other practicing teachers.
World Music Pedagogy in the Choral Classroom - Presidential Scholars' Program 2014
The importance of both culturally responsive teaching and global learning perspectives has become a significant element of contemporary music education practices. Engagement with world music broadens the scope of music learning and provides students with opportunities to develop new musical skills and cultural understandings. For my Presidential Scholar's project, I will be exploring the principles and practices of world music pedagogy for application in the choral classroom. This project culminates in a resource guide containing ten choral world music pieces accompanied by descriptions of cultural contexts, teaching strategies, as well as a set of criteria for selecting world music repertoire.
University of North Texas "Voices Raised" Middle School Choral Festival
C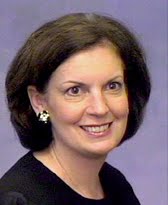 ongratulations to Dr. Rebecca Reames.
Middle school choirs from around the state of Texas gathered for a day of singing and choral education at the"Voices Raised" Middle School Choral Festivalheld May 3-5, 2014 on the campus of University of North Texas at Denton during the first week of May.
Dr. Reames served as adjudicator for groups present, in addition to being a guest of the Middle School/Junior National Conference for Choral Music sponsored by Cambiata Institute on May 3. Dr. Reames is a treble choir conductor and choral clinician at the Cambiata Institute of America for Early Adolescent Vocal Music at the University of North Texas.
Chapter on "Learning to Teach Music" in new Oxford Handbook published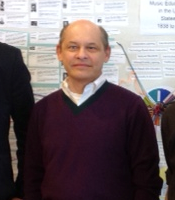 A chapter devoted to learning to teach music written by Professor Mark Robin Campbell and former Crane music education professor Linda K. Thompson is included in The Oxford Handbook of Qualitative Research in American Music Education.
The handbook addresses critical issues, specific designs and methods, and syntheses of qualitative research in music education pertaining to particular topics. The chapter by Dr. Campbell and Dr. Thompson is entitled a "Critical Analysis of Qualitative Research on Learning to Teach Music In Preservice Music Teacher Education" and discusses how preservice music teachers learn to teach music.
Learning and Research Fair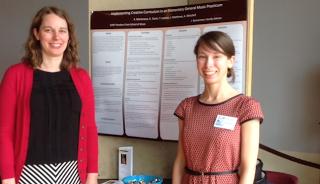 Music Education students participated in this year's Learning and Research Fair held April 23, 2014 at the Barrington Student Union on the Potsdam Campus.
Graduate students included:
Benjamin Rybolt and Alex Mau, who presented "A Graphic Representation of the History of Public School Music Education in the United States from 1838-2014."
Undergraduate students included:
Kristina Martorano, Tom Lawton, Julianna Matthes, Anissa Tazari, and Alanna Winchell, who presented "Implementing Creative Curriculum in an Elementary General Music Curriculum Practicum."
Samuel Pilnick, who presented "APPR: A Look into its Effects on the Teaching Practices of Two Music Teachers."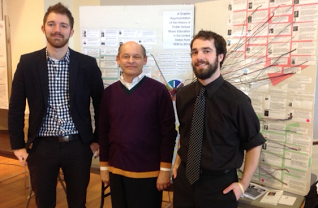 Professor Mark Robin Campbell with Benjamin Rybolt and Alex Mau at the Research & Learning Fair.
National Association for Music Education Research and Teacher Education Conference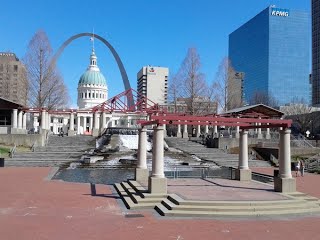 Representing Crane's music education department at this year's National Association for Music Education (NAfME) Research and Teacher Education Conference were Professors Julie Bannerman and Caron Collins.
The conference was held April 10-12, 2014 in St. Louis, Missouri. Music education researchers, music teacher educators, and music program leaders from around the United States and Canada attended. The conference included open forums, presentations by key national music education scholars, research poster sessions, and planning meetings.
New Directions in Music Education Conference at Michigan State University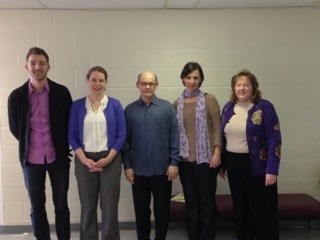 Curricular work in advancing music education within the profession by the music education faculty at the Crane School of Music was recognized by Michigan State University?s New Directions in Music Education Conference on March 20, 2014.
Professors Mark Robin Campbell, Debra L. Campbell, Julie Bannerman, and Jennifer Kessler, along with graduate student in music education, Benjamin Rybolt, formed a panel to discuss "The Personal Musicianship Project: Teaching Multiple Forms of Music Making within the College Music Education Curriculum."
The panel discussed and provided video cases of a set of learning activities designed to cultivate preservice music teachers? musical creativity and develop their musicianships within spheres of contemporary forms of music making. The panel featured students performing and creating music on instruments such as ukulele, mandolin and guitar; analyzing and describing music derived from genres outside the sphere of Western art music such as Country & Western, DubStep and electronica; and composing music in the form of mash-ups, parodies or original songs using digital technologies.
The panel's presentation at the New Directions Conference continues the work begun at the 2013 Crane School of Music Symposium on Music Teacher Education on revitalizing music education around relevant and culturally diverse artistic endeavors.