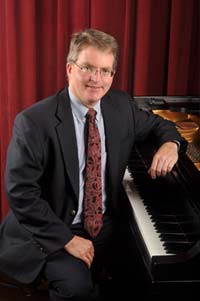 I am honored to serve as Dean of The Crane School of Music, a school founded on principles forged by Julia Crane's pioneering work in music education over a century ago. These same principles have informed the careers of a long and impressive series of teachers, performers and musical leaders since that time.

Today's Crane School is mindful of this legacy, while simultaneously aware that ours is also a tradition of innovation, demanding that we continually seek new ways to teach, to learn and to reach the highest levels of musical excellence in performance, pedagogy, scholarship and creativity. I am honored to be among the outstanding faculty, staff and students who remain dedicated to keeping these traditions and ideas alive, and committed to a spirit of innovation and inquiry which is never satisfied with the status quo.

In 2011, The Crane School celebrated the 125th anniversary of its founding. As we now look toward the 2016 bicentennial celebration of the College, we seek to share our rich heritage and the vitality of our current program with all members of The Crane School's extended family - our students, faculty, staff, alumni, audiences and friends around the world. Our ability to stream concerts and other programming over the internet makes those worldwide connections even more vital and exciting.

Crane's commitment to artistic engagement is a vital part of SUNY Potsdam's vision for artistic leadership in the North Country, throughout the state of New York, and far beyond. I welcome your involvement with us as listeners in our audiences, as potential students, as supporters, and as partners sharing in Julia Crane's conviction that music is of fundamental importance to our common life.
Dr. Michael Sitton, Dean
The Crane School of Music
Email:
sittonmr@potsdam.edu