Auditions
There are no entrance auditions for Crane Youth Music. There will be auditions for placement and seating in the ensembles and studios on Sunday, June 30. All campers should be prepared to play or sing a short etude or piece that demonstrates their level of performance. Scales and sight reading may be a part of the instrumental audition. Accompaniment is not needed for auditions. Jazz ensemble auditions should include a short example of style and improvisation.


Instruments

Instruction in small master classes is provided for the following: STRINGS: violin, viola, cello, string bass; WINDS: flute, oboe, clarinet, bassoon, saxophone; BRASS: trumpet, horn, euphonium, trombone, tuba; PERCUSSION; VOICE; HARP; PIANO. Keyboard and percussion instruments are provided and string bass and tuba instruments are available upon request. Campers must bring all other instruments. We recommend that all students carry instrument insurance on privately owned instruments. CYM and SUNY Potsdam cannot be responsible for damage or loss. Please specify your instrument range, for example, tenor sax or bass clarinet.


Private Lessons
Some students may wish to arrange for additional private lessons with a studio teacher while at camp. Such opportunities would depend on the availability of the instructor. The regular studio teaching rate is $40/hour, $20/half-hour, due to the instructor at the time of the lesson. Arrangements should be made with the studio teacher or camp director upon arrival and NOT the Crane Youth Music office.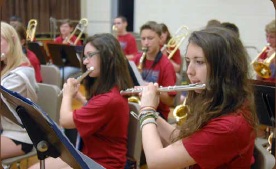 Housing and Meals
CYM campers live in double rooms in the College residence halls and eat in a central dining hall. Triple rooms will be used if needed. A full-time residence hall director and counseling staff, many of whom are current Crane School undergraduates and alumni, supervise housing with a student-counselor ratio of 10 to 1. Crane Youth Music is licensed by the New York State Department of Health.
Transportation
Route information for those driving to Potsdam will be included in your information packet upon registration. Commercial bus service is available to Potsdam. Upon request, CYM will provide transportation from the bus station to campus for campers only.


Medical Services
In compliance with New York State Department of Health regulations the camp staff includes a full-time medical director who supervises emergency medical service with referral, if necessary, to the Canton-Potsdam Hospital. Parents will be notified of any emergency. Health forms are mandatory and all camper medications including aspirin and ibuprofen must be turned in to the medical staff upon arrival at camp.



Fees

Resident Camper -$975

Commuter Camper - $670 (includes daily lunch)
A $50 non-refundable deposit is due with registration. All fees must be paid by May 31. Full refund, minus the deposit, will be made up to May 31; no refunds will be issued after this date. An information packet will be sent upon receipt of your registration.


Check Out Procedures
All campers are required to fill out a Pick- Up Authorization form and submit it prior to camp check-in or bring it to camp check-in completed. Only family members and/or guardians who are listed will be able to pick-up their camper throughout the duration of the camp and at check-out. Campers will not be released to anyone who is not on the Pick-Up Authorization form and forms of ID are required at time of pick-up.
Registration will begin in January