The 2018 Domenic J. Pellicciotti Opera Composition Prize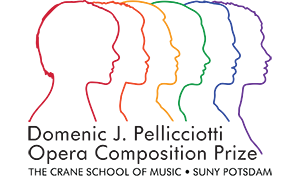 The Domenic J. Pellicciotti Opera Composition Prize was founded by Dr. Gary C. Jaquay to honor his life partner Domenic J. Pellicciotti, an ardent fan of opera. The award seeks to encourage and acknowledge the creation of new opera works that explore themes related to tolerance, inclusion or the celebration of diversity within an inclusive community.
Competition Finals
The final round of the 2018 prize competition will be held at The Crane School of Music on September 23-24, 2016, featuring commissioned scenes from each of the four finalists.
One winner will be awarded a $25,000 commission to complete the work, which will premiere in November 2018 by the award-winning Crane Opera Ensemble & Orchestra.
Public Events
Friday, September 23
4 p.m, Panel Discussion with Composers, Librettists and Dramaturg, moderated by Mark Campbell and Darren Woods
Wakefield Recital Hall
Saturday, September 24
Presentation of finalist scenes by faculty and students of The Crane School of Music, with introductions by the composer and librettist teams:
1 p.m.: Program A: Albert Nobbs and Mayo – Snell Music Theatre
5 p.m.: Program B: The Reef and Uncovered – Snell Music Theatre
All events will be live-streamed at potsdam.edu/academics/Crane/streaming/ and the public is invited to attend.
NCPR is media sponsor for this event.
The prize will be awarded every four years. Criteria for the $25,000.00 commission can be found here.