The Department of Elementary Education
We have programs specifically designed to prepare students for a career in teaching from Birth to grade 6.
We also have programs designed to meet professional certification requirements.
The department offers the following programs.
Undergraduate Program
B.A. Childhood/Early Childhood Education is our newest major and we're now admitting new students. This combined major is designed to allow students to earn an undergraduate degree leading to Initial certification for Childhood/Early Childhood levels (birth through grade 6).
For students currently pursuing either a B.A. in Early Childhood, or a B.A. in Childhood Education, please contact Lisa Stewart at x3429 or stewarla@potsdam.edu for course requirements.
 
Graduate Programs
M.S.T. Childhood Education is a degree program designed for candidates who already hold an academic baccalaureate degree and who now seek Initial New York certification in Childhood Education (1-6).
M.S.Ed in Curriculum and Instruction is for candidates who have earned their Initial certification in the state of New York and need a masters to complete the academic requirements for Professional certification. In addition to the Professional certification program for U.S. citizens, there is also an international program for individuals who have a four year undergraduate or graduate degree from an accredited university and who have the minimum required TOEFL score.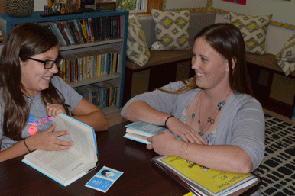 "When I look at the education program, I think of the word freedom. My professors gave me the tools to be successful and to be free to go beyond what is now known. When I targeted areas of professional practice that I wanted to improve upon, they said, 'Great! We'll help you find a way to get where you want to go!' It's a wonderful journey."
- Tricia Day, Education Major