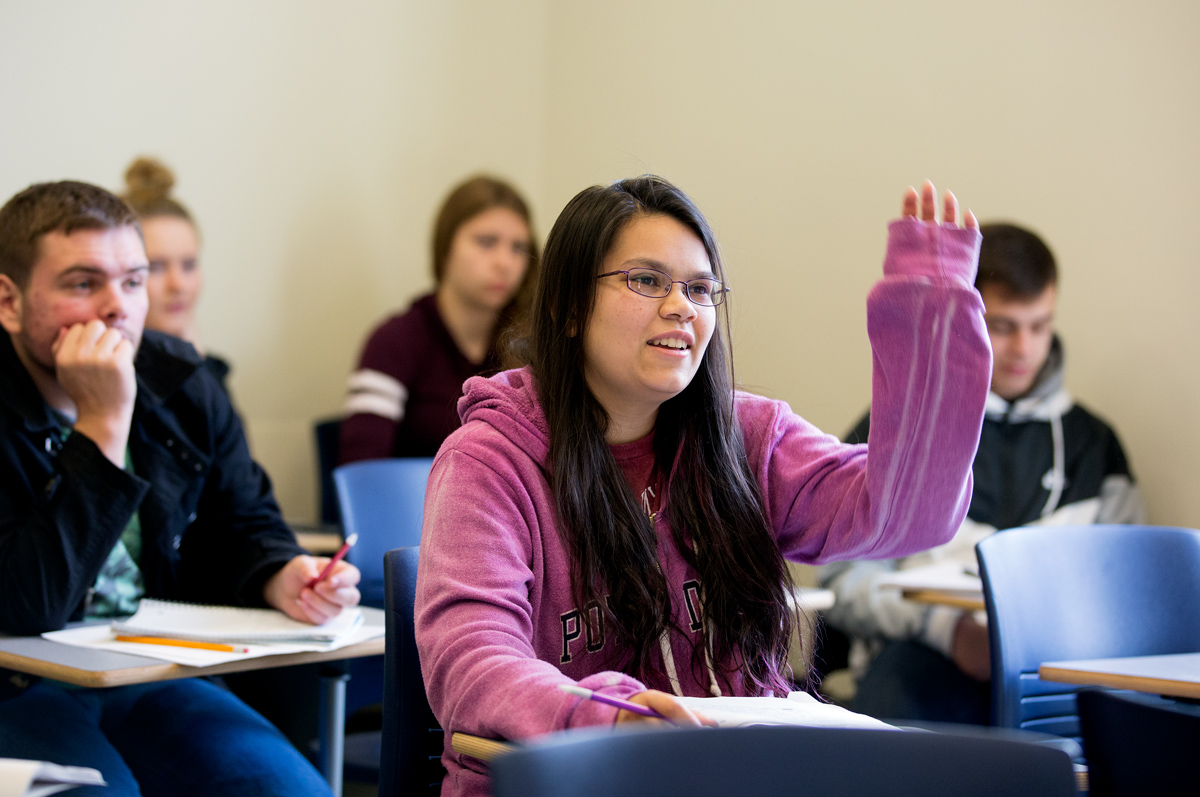 For freshman Cara Ramsaran '21, there's a lot of stress associated with trying to find the right major to fit her interests and dreams. Luckily for her, and the hundreds of other undecided students arriving on campus each fall, SUNY Potsdam's new Exploratory Program provides them with the support and guidance they need to choose a fitting career path and major.
"I think the best part of the exploratory program is that I'm not alone in trying to figure out what I want to do," Ramsaran explained.
This semester she has been working with Assistant Professor Matthew LaVine '08, the coordinator for the Exploratory Program, to make some decisions about her future. "I find everything interesting. I find communications, philosophy, sociology, politics, all of that interesting. Trying to narrow down what exactly I like about those things and figuring out what exactly I want to do is going to be my toughest problem," she said.
LaVine, who attended SUNY Potsdam as an undergraduate, is in the perfect place to help her choose a major. He was once undecided himself, exploring four different majors and three different minors before selecting philosophy and mathematics as a double major, and going on to pursue his Ph.D. in philosophy at the University at Buffalo. Truly a Renaissance man, he has taught courses in philosophy, mathematics, environmental studies, linguistics, and psychology since joining the College as a faculty member in 2012.
Now he has taken on an even greater responsibility as a mentor to SUNY Potsdam's exploratory students. "The Exploratory Program currently offers academic support and programming aimed at helping students who haven't yet declared their major to find the right fit for them in terms of a curricular path," LaVine said. "Basically, my job is to do whatever I can to help students rigorously and systematically explore what different disciplines at SUNY Potsdam look like, day-to-day."
Any student who has not yet selected a major is considered an exploratory student at SUNY Potsdam, and there are numerous tools available to them through the new program. The Major Fair, offered earlier this semester, gave students the opportunity to interact with faculty from different departments and learn about all of their academic options.
A Career and Major Exploration class also allows first-year students, like Jason Perregaux '21, a chance to assess their strengths and narrow down their career interests.  "The goal is to help you find the career you want, and then to backtrack to figure out what majors and what minors would help you do this," Perregaux said.
First-Year Interest Groups (FIGs) are another valuable asset for freshmen to explore different disciplines by taking three classes connected by one academic theme. Twenty-seven FIGs were offered this semester, giving students a hands-on, interdisciplinary approach to learning, while at the same time working with the same cohesive group of classmates all semester.
"You see the same people in those three core classes. So, the first couple of weeks of school, when you have no idea where anything is, you're like, 'oh, I know that girl, I can sit by her.'…That really eased my nerves a little bit so I could focus more on school. I wasn't as worried about making friends…It kind of just took the pressure off," said Michaela Nissen '19, who completed a FIG during her freshman year.
Nissen remembered that she had arrived on campus totally uncertain about her future. "I was very nervous because I didn't have a major and I had no idea what I wanted to do. I was worried about graduating on time. What if I declare a major and then want to switch? I had commitment issues, times 10. It was rough," she said.
That changed over the course of her freshman year as she went from being an exploratory student to selecting a major in early childhood education. Toby White, the director of experiential education, was an encouraging voice as she struggled to make a decision. He suggested that she consider becoming an educator and he recommended that she shadow a guidance counselor and a teacher to see if it was a good fit. "I shadowed a teacher and I loved it. I loved being in the classroom and I loved working with the kids," Nissen said.
At the beginning of this semester, there were 600 undeclared exploratory students at SUNY Potsdam, and as students have found their majors, that number has dropped to around 400. What's different this semester though, is that these undecided students now have a physical space they can call home and rather than feeling like they're all on their own, they have a greater support system than ever before.
If you are currently an exploratory student trying to narrow down your interests, contact LaVine at lavinemj@potsdam.edu or stop by his office and the adjoining Exploratory Program lounge in Dunn Hall Room 311.
"The Exploratory Program currently offers academic support and programming aimed at helping students who haven't yet declared their major to find the right fit for them in terms of a curricular path," said Assistant Professor Matthew LaVine. "Basically, my job is to do whatever I can to help students rigorously and systematically explore what different disciplines at SUNY Potsdam look like, day-to-day."