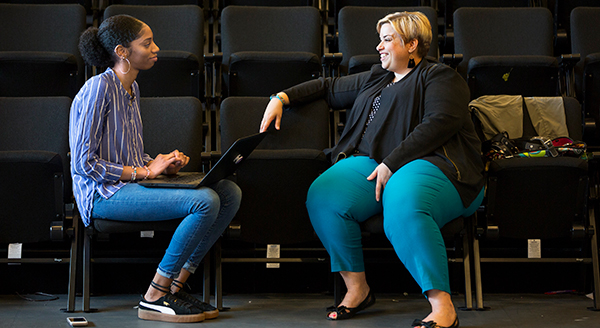 Nearly one-third of the students who attend SUNY Potsdam major in the arts. Our new Bachelor of Arts degree in arts management allows you to both study the art form you love, and acquire the management knowledge and communication skills needed to successfully make your way in the creative economy. Be prepared to be engaged! All arts management students are required to either minor or double-major in an arts discipline, and all majors will complete capstone projects and internships in the field. Interested in music business? Visit the Crane School of Music page here.
Contact person:
Joshua Vink, Assistant Professor/Coordinator
Performing Arts Center 226
(315) 267-2625
vinkjb@potsdam.edu
The SUNY Potsdam Arts Management program provides students with knowledge and skills to prepare them for a lifetime of arts engagement as community leaders, practitioners and arts professionals, and also prepares students for graduate study in the field. Special attention is paid to the principles and practices of arts management, in order to develop students as arts entrepreneurs and administrators, and to support student artists in the development of their creative careers. Career possibilities include working as artists, within traditional arts organizations, government and community service institutions, foundations and in the entertainment industry. In collaborative classroom environments, students will learn about how new media and technologies can enhance communication within, and improve the design of, arts organizations, while also learning to analyze current trends and public policies, and discover how placemaking and creative economic development initiatives can deepen the impact of the arts in communities. Internship and practicum components extend student practice through placements in accomplished local, regional and national arts and cultural organizations. Finally, Arts Management majors study the arts themselves, by minoring or majoring in one of the creative arts disciplines offered by the College.
52-53 credit hours required.
Core Courses (19-20 credits)
ARMA 100 Intro to Arts Management (3 cr.)
ARMA 207 Arts Management Practicum I (2 cr.)
ARMA 307 Arts Management Practicum I (2 cr.)
MGMT 301 Principles of Management (3 cr.)
ARMA 310 Arts Grant Writing/Fundraising (3 cr.) or COMP 322 Grant Writing (4 cr.)
ARMA 300 Arts Publicity and Marketing (3 cr.) or MKTG 301 Principles of Marketing (3 cr.)
INTD 491 Arts Management Capstone Internship (3 cr.)
Cognate Courses (15 credits)
Two communication courses from the following list (6 cr. total):
COMM 206 Business and Professional Communication (3 cr.)
COMM 311 Small Group Communication (3 cr.)
COMM 325 Professional Speaking (3 cr.)
COMM 340 Public Relations (3 cr.)
COMM 430 Employment Seeking and Communication (3 cr.)
COMM 455 Organizational Communication (3 cr.)
Three arts history courses from this list (9 cr. total):
ARTH 101 Survey of Art: Ancient/Renaissance (3 cr.)
ARTH 102 Survey of Art: Renaissance/Modern (3 cr.)
ARTM 270 Museum Studies (3 cr.)
MULH 110 Music Through the Ages (3 cr.)
DRAM 312 Theatre History I (3 cr.)
DRAM 313 Theatre History II (3 cr.)
DANC 320 20th & 21st Century Dance History (3 cr.)
Required Minor (at least 18 credits)
Complete a minor from one of the areas listed below. Students may substitute a second major in one of these areas as well to complete this requirement.
Art Studio
Visual Arts
Art History
Graphic Design & New Media
Dance
Theatre
Museum Studies
Writing
Creative Writing
Literature
Literature/Writing
(Notes: Other areas of study must be approved by the Arts Management Coordinator. If you are interested in studying music business, visit the Crane School of Music page here.)