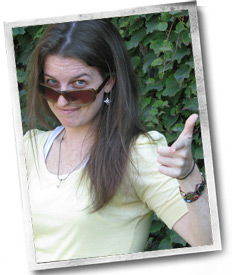 Hometown: Corning, NY
Class Year: Graduate Student

Major: Biology, Theater
Activities: RA, Circle K President
Where do you live at school? Bowman West
Why did you choose Potsdam? When I came to visit, I loved the campus. I wasn?t 100% sure of a Major:, but Potsdam had all of my interests. It was far from home, but I knew there was a lot to keep me busy on campus.

What is your favorite location on campus and why? The student Union ? you can do everything there! Get ice cream, play pool, check your mail, buy a poster, rent a movie, eat dinner?
What are your career goals? I am staying at Potsdam to get a master?s degree in education. I want to teach middle school or high school biology and run the theater program in the school.
What is your favorite Potsdam tradition? Activity day for first year students: giant slip n glide rocks! Also the best way to meet people!
What has SUNY Potsdam given you the opportunity to do that you have never tried before? Just everything?I?ve seen hypnotists, comedians, bands?all on campus! There are dozens of opportunities for leadership. The biggest thing has been the friends I?ve made along the way.
Who is your favorite professor? Dr. Conley in the biology department. He plays a different song at the beginning of every lecture, and it always has something to do with the topic for that day. Plus, he?s really organized and super smart.

What is your favorite restaurant in town? Scoopucino?s
What is your favorite activity on campus? Circle K