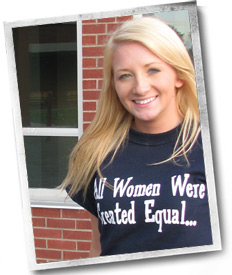 Hometown: Marion, NY
Class Year: Senior
Major: Music Education - voice
Activities: Potsdam Pitches ? Vice President, Alpha Kappa Phi
Where do you live at school? Lehman Suites (north)
Why did you choose Potsdam? The excellent music program. Also the beautiful campus and friendly atmosphere.
What is your favorite location on campus and why? The Union?I love to people watch!
What are your career goals? To become a high school choir teacher
What is your favorite Potsdam tradition? Bid night for Alpha Kappa Phi
What has SUNY Potsdam given you the opportunity to do that you have never tried before? It has given me the opportunity to be busy and challenged, but have fun and meet new people at the same time.
Who is your favorite professor? Dr. Jill Pearon
What is your favorite restaurant in town? It?s a tie between Little Italy and the Bagelry
What is your favorite activity on campus? Home Hockey games!