Amy recently joined SUNY Potsdam President Kristin Esterberg to accept the Ice Bucket Challenge. Launch Youtube Video to watch the event.
Partner at
Harter, Secrest & Emery, LLP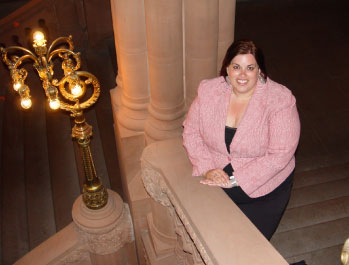 When a person becomes a lawyer for a prestigious law firm, sits on several boards, is appointed president of her alma mater's alumni association ? and successfully lobbies for a statewide smoking ban, we would most likely call that person successful. When does this all by age 35, we would call that person remarkable.


Amy Kellogg ?99 exudes energy. She talks quickly ? as in ?I?ve got so much to say in such a short period of time? ?and she is also a person whom many are watching.


In addition to working for one of the top ten lobbying firm in New York state, Kellogg also serves as the president of the Tech Valley Business and Professional Women, the New York State Bar Association?s Committee on Women and Law and the Albany County Democratic Committee.


Kellogg grew up in Walton, NY, in a small town on the edge of the Catskill Mountains in Delaware County. She came to Potsdam when she realized she couldn?t afford St. Lawrence University and after her high school guidance counselor ( a Potsdam graduate) recommended the College to her.


Kellogg claims she knew she wanted to become a lawyer since the time since she was six years old, even though she didn?t even know what exactly a lawyer did. She signed up for the pre-law program at Potsdam and was mentored by Dr. Richard Del Guidice, former chair of the Department of Politics. He helped her secure an internship in the New York State Assembly in her junior year and helped her prepare for law school.


?The politics program at Potsdam is very demanding. There was so much writing involved,? she said. ?I talk to my colleagues who went to Colgate, NYU and other prestigious schools, and I know they didn?t get nearly the education that I received at Potsdam.?


She attended Albany Law School and in her second year there had begun working at Harter Secrest & Emery LLP. After graduating in 2002 and passing the bar exam, she began working fulltime for the firm.


Kellogg almost immediately began taking on what would become a landmark piece of legislation, one that would come to serve as a nationwide model. In 2004, the Restaurant Association wanted the state Legislature to pass a statewide law banning smoking in restaurants. Several local ordinances already had been passed across the state, and the restrictions often varied county to county.
The thought was that a single state law would eliminate complications caused by varying local laws and increase business from non-smoking patrons.


The Restaurant Association hired Harter Secrest & Emery to lobby for the changes, and Kellogg became the lead attorney in the case. Eventually the law was tied into the Clean Indoor Air Act, which banned smoking in any public place where employees could be exposed to secondhand smoke.


?That was the biggest piece of legislation I?ve gotten passed so far,? she said. ?I?ve got to say I?m really proud of that.?