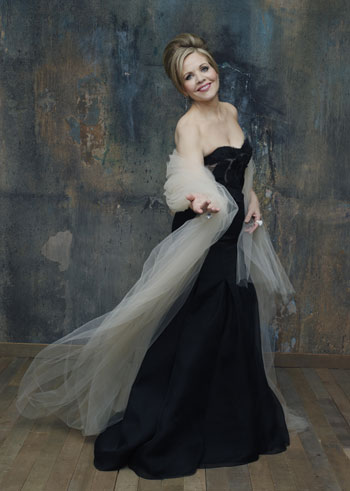 Rene Fleming has brought down the house at opera houses and concert halls across the globe?but she sang for her largest audience yet at Super Bowl XLVIII on Sunday, Feb. 2, 2014.

The superstar soprano, known lovingly as "the people's diva," became the first opera singer to perform the national anthem at America's most-watched athletic event. Dressed in Vera Wang and accompanied by a recording of the New Jersey Symphony Orchestra, Fleming gave a stunning rendition of "The Star-Spangled Banner," backed by top singers from the nation's military choirs.
It's not the first time the SUNY Potsdam alumna has performed in the extreme cold at a major sporting event. Back when she was a music education student at The Crane School of Music, Fleming sang at the 1980 Winter Olympics in Lake Placid, N.Y., along with the Crane Chorus and Crane Symphony Orchestra, which provided all of the live music for the games.
From the Crane stage, all the way to the big game, it just goes to show that the arts can take you anywhere.
"SUNY Potsdam's Crane School of Music continues to cherish the many-faceted career of our beloved Rene Fleming, as we follow her ongoing work as a singer, as a spokesperson and advocate for the arts, and as an artistic leader around the world," Crane School of Music Dean Dr. Michael Sitton said. "We joined the tens of millions hearing Rene's magnificent voice before the Super Bowl, with special Potsdam pride!"
Faculty, staff and alumni at Rene's alma mater still talk about her incredible work ethic and talent as a student. Students talk about her as their role model and inspiration.
In her book, "The Inner Voice: The Making of a Singer," Fleming wrote about her experiences at SUNY Potsdam:
"There are so many things that go into making a singer?not just natural talent and hard work but tenacity, resilience, and luck. When I started my freshman year at The Crane School of Music, I began work with Patricia Misslin. Had I somehow found the money to attend any of the better-known music conservatories I had dreamed of, I probably would have received no more than one private lesson a week. As an undergraduate, I certainly never would have been onstage except as part of a chorus. At Potsdam, I not only had the full attention of a talented, dedicated voice teacher, but by the end of my first month at school, I'd been cast as the soprano soloist in the Bach B-minor Mass. A freshman! No one was more surprised than I at this upset."
Fleming also was known for practicing for hours a day at Crane, and taking multiple singing gigs to support herself through college and hone her skills.
"Classical wasn't my only interest in those days. Potsdam was the place where I fell in love with jazz, a love that, for a while at least, I thought would be my life," she wrote.
After graduating from Potsdam in 1981 with a degree in music education, Fleming went on to graduate studies at Rochester's Eastman School of Music. Afterward, she attended the Juilliard School and went on to study voice in Germany as a Fulbright Scholar. She burst on to the scene when she won the 1988 Metropolitan Opera National Council Auditions and the George London Prize. Since then, her voice and artistic expression have taken her around the globe.
One of the most beloved and celebrated musical ambassadors of our time, Fleming captivates audiences with her sumptuous voice, consummate artistry and compelling stage presence. Known as "the people's diva," she continues to grace the world's greatest opera stages and concert halls, now extending her reach to include other musical forms and media. Over the past few seasons, Fleming has hosted a wide variety of television and radio broadcasts, including the Metropolitan Opera's Live in HD series for movie theaters and television, and "Live from Lincoln Center" on PBS.
In July 2013, Fleming was awarded one of the country's highest honors, when President Barack Obama presented her with the National Medal of Arts. She was also elected to membership in the American Academy of Arts and Sciences last year and named to the 2013 Gramophone Hall of Fame. In addition, she accepted her fourth Grammy Award in February 2013, for Best Classical Vocal Solo. Fleming currently serves as the first-ever Creative Consultant for Lyric Opera of Chicago.
As a musical ambassador, Fleming has been sought after on numerous distinguished occasions, from the 2006 Nobel Peace Prize ceremony, to performances in Beijing during the 2008 Olympic Games. In January 2009, she was featured in the Inaugural celebration concert for President Obama. In 2012, in an historic first, she sang on the balcony of Buckingham Palace in the Diamond Jubilee Concert for Her Majesty Queen Elizabeth II. She has also performed for the U.S. Supreme Court. An additional distinction was bestowed in 2008, when, breaking a precedent, Fleming became the first woman in the 125-year history of the Metropolitan Opera to solo headline an opening night gala.
Less than a week after performing for more than 160 million viewers at the Super Bowl, audiences can see her in one of her most beloved roles, as she stars in the title role in Dvorak's "Rusalka." The opera will be broadcast to movie theaters across the world, through The Met: Live in HD.
Following her magical performance at the big game, Fleming is sure to attract new fans who want to know more about one of SUNY's most distinguished graduates.
To find out more about Rene Fleming, visit reneefleming.com.
(photo courtesy of DECCA/Andrew Eccles)