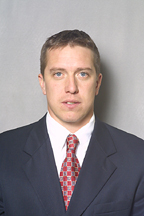 Sherry Dobbs enters his ninth year at the helm of the Bears men's basketball program.

At Potsdam, Dobbs has amassed over 100 victories while leading the Bears to two SUNYAC championships. Under the leadership of Coach Dobbs, Potsdam made back-to-back visits to the NCAA Tournament, advancing as far as the Elite Eight in the 2004-05 season.
Dobbs was named the 2005 SUNYAC Coach of the Year.

"This honor is very much deserved, and given that his peers chose him, makes it even more distinctive," athletic director James Zalacca said. "Coach Dobbs is a true role model for our players."

Prior to Potsdam, Coach Dobbs was an assistant coach at Ithaca College from 1998-2003. He helped the Bombers win the 2001-02 Empire Eight Championship as well as the 1999-2000 ECAC Upstate New York Tournament title.
Prior to his tenure at Ithaca, Dobbs served one year as assistant coach at St. Lawrence University. In that season, the Saints went 24-2 to win the Upstate Collegiate Athletic Association title and reach the NCAA Division III Tournament quarterfinals.
Dobbs began his coaching career in 1995, when he served two years as assistant women's basketball coach at SUNY Potsdam. He completed his master's in teaching at Potsdam in 1998. Dobbs earned his bachelor's at SUNY Plattsburgh in 1993 after collecting four varsity letters on the Cardinals' basketball team.

Jon Tanous: Assistant Coach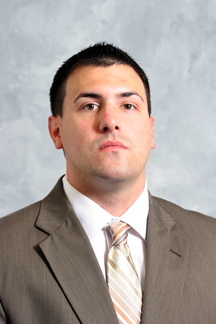 Jon Tanous enters his seventh season of coaching with the men's basketball program at SUNY Potsdam. He is a 2005 graduate of Potsdam, where he played four seasons with the Bears.
A tireless worker, Tanous will work on the development of the team's perimeter players. Jon's understanding of the game and the Bears' system make him a valuable member of the men's coaching staff.
Jon was a member of Potsdam's 2003-04 and 2004-05 teams which advanced to the NCAA Tournament. The Liberty, N.Y., native played high school basketball at Sullivan West.




Stan Cohen:
Assistant Coach
Having worked with the men's basketball program at SUNY Potsdam for over 35 years, Stan Cohen is the longest tenured member of the Bears coaching staff.

The Bears Hall of Fame member, who first began working with coach Jerry Welsh in 1971, continues today as an assistant coach for Sherry Dobbs.
Cohen has been with the Bears during two national championships, their 60-game winning streak, six SUNYAC Tournament titles and numerous NCAA Tournament appearances. Eight players have been named All-Americans since Cohen began coaching at Potsdam.
A graduate of Hobart College, Coach Cohen served as co-captain of the 1955-56 men's basketball team. His team finished then with the best win-loss percentage of any team in the history of Hobart basketball.
"Stan's wisdom and experience have been a tremendous help to both myself and our basketball team," Dobbs said. "He is very good teacher of the game and has an excellent rapport with our players."