It is critically important that Windows be updated to avoid spyware, trojans, and certain viruses.
Setting Up Automatic Updates
The best option is to set your Windows Computer to automatically download the update and to install it.
From the Start menu choose Setting and then Control Panel.
In the Control Panels window that opens, double-click Automatic Updates (Note: If you're using Windows XP and do not see Automatic Updates as a choice, click on the words Switch to Classic View on the left side of the window first.)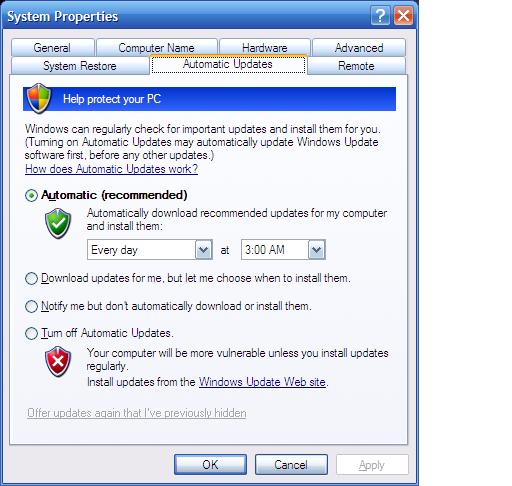 The Automatic Updates control panel is shown above. You will want to choose Automatic (recommended). Beginning with Windows Service Pack 2 any new updates will be installed at the specified time or when you turn your computer off. This ensures that new updates are installed. When you turn your computer off and there is an update to install you'll note that Windows displays the following message which is very important that you follow: Your computer is being updated, do not turn off or restart your computer. It will turn off automatically.
Click Apply and then OK. You may close the Control Panel.
Manually Running Updates
There maybe times when you will wish to run a Microsoft Update manually instead of waiting for the Automatic Update to happen. To do this:
From the Start Menu look for Microsoft Update either in the main Start Menu or in the Programs Menu. Alternately, you can open Internet Explorer and go to: http://update.microsoft.com
 

When the Windows Update page appears, choose Express.
 

Windows Update will look for updates for your computer, if any are found you will then need to click Install Updates.

When complete, depending on the update, Windows will confirm success and may ask that you restart your computer.