NOTE:CTS Staff typically configure/reconfigure this software on College owned computers. These instructions are provided for non-College owned computers and/or CTS Staff to reference.
Open System Preferences from the Apple menu. Click the Internet Accounts icon. Click the + to add a new account.
Click Add Other Account...

Click Add a Mail account and click Create...

Enter your information in the fields as shown in the examples below. Click Create when finished.

The system will tell you "this account needs to be configured manually." Do so with the following information and click Next. Note: POP accounts are not supported.

Setup the SMTP settings as below. When you click Create here it can take a long time to verify the settings. Be patient!

Almost complete. Click the Advanced... button to double-check the settings.

Sometimes Use SSL isn't checked and the Port number is incorrect. Be sure that your settings match below and click OK to finish.
Troubleshooting
Problem: "I can't send email."
In some cases during the setup, the incorrect SMTP port is selected. To correct this, click the Mail menu and choose Preferences... then click the Accounts icon. Under Outgoing Mail Server (SMTP) click Edit Server List... and the following box should appear: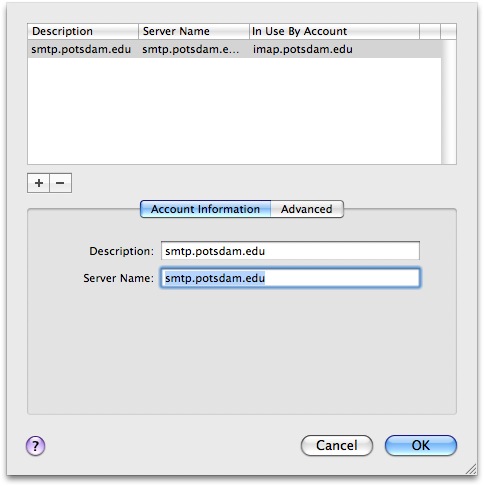 Click the Advanced button and make sure that the settings match those below for the port number and that Use custom port is selected: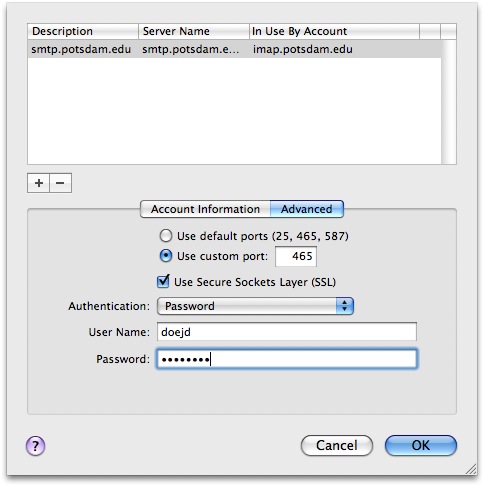 Problem: "My Sent or Trash Mailboxes are not correct."
By default our mail system uses different sent and trash mailboxes. You must tell Mail to use these instead. Find the mailbox(es) in the left side that contain your actual messages, then from the Mailbox Menu choose Use This Mailbox As... See the screenshot below for what it looks like.