Android devices do not natively support the CalDAV protocol on it's built-in calendar. In order to use it with SOGo you will need to purchase an App from the Google Play Store.


If you don't have an icon for the Play Store, open the Google Market and agree to it's terms.


Shortly after it should prompt you to upgrade to Google Play. Once you have the Play Store installed you're ready to start.
1. Open the Play Store.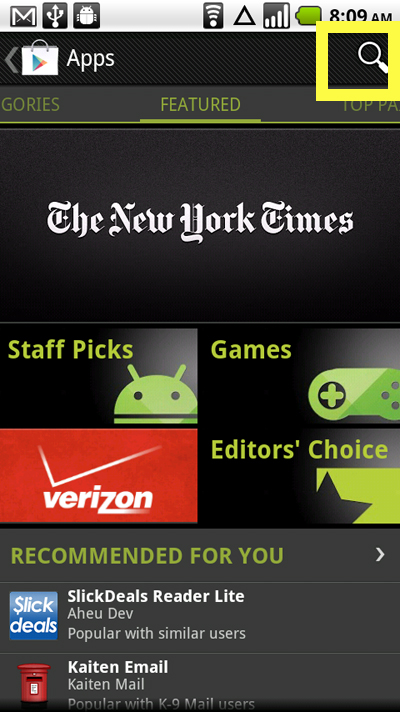 2. Touch the magnifying glass to search for the app.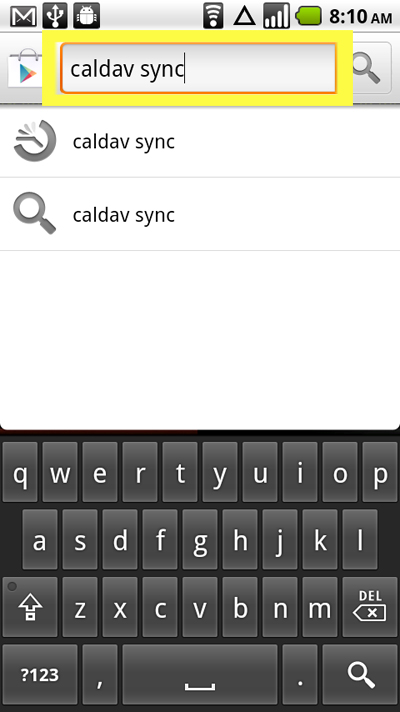 3. Type in caldav sync as show in the photo above. Once it appears in the list at the bottom select it.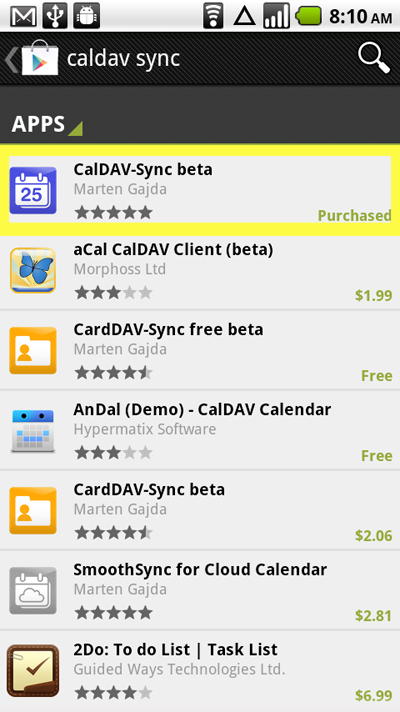 4. Here you will be provided with a list of found Apps. You'll need to choose CalDAV-Sync beta by Marten Gajda. You will need to purchase the app. This will prompt you for various gMail account information, and will likely have you set up a Google Payments Account. The app costs $2.76.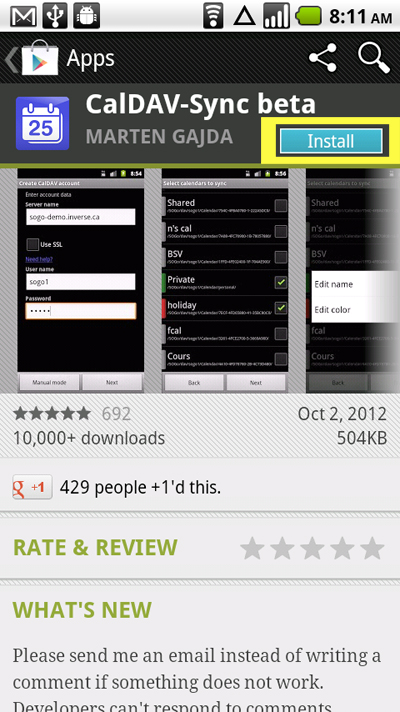 5. Once you've purchased the App you'll see the following screen. Press Install.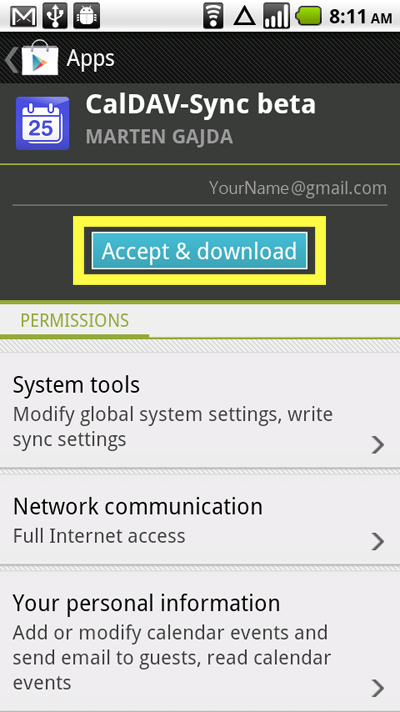 6. Tap Accept & download.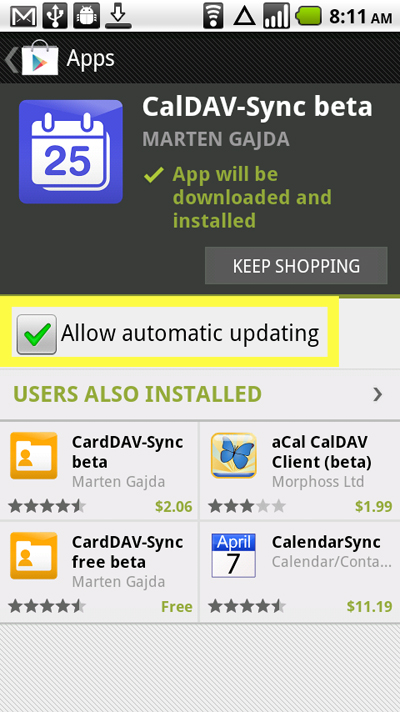 7. Check Allow automatic updating, and answer yes to the popup window that appears.
8. Press the home button and go back to your Apps list.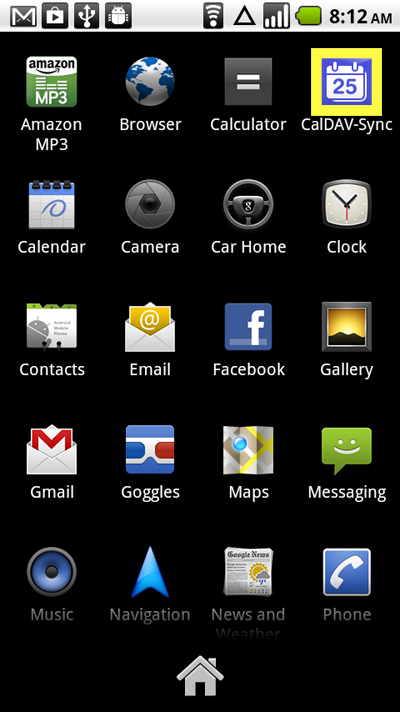 9. Press the CalDAV-Sync Icon.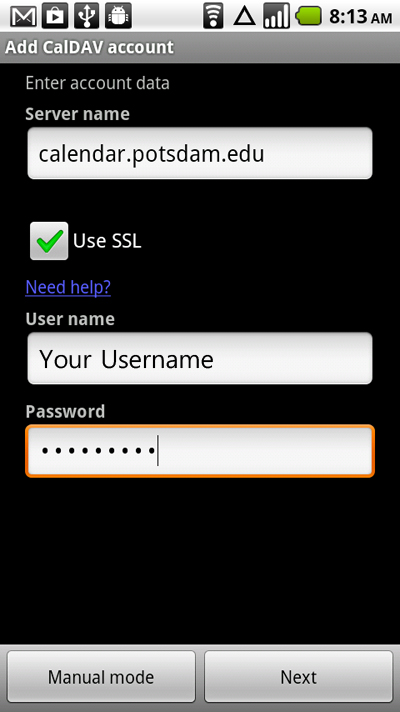 10. Using the above as a guide:
Enter your server name as calendar.potsdam.edu
Ensure that Use SSL is checked.
Enter your CCA user name and password.
Then press Next.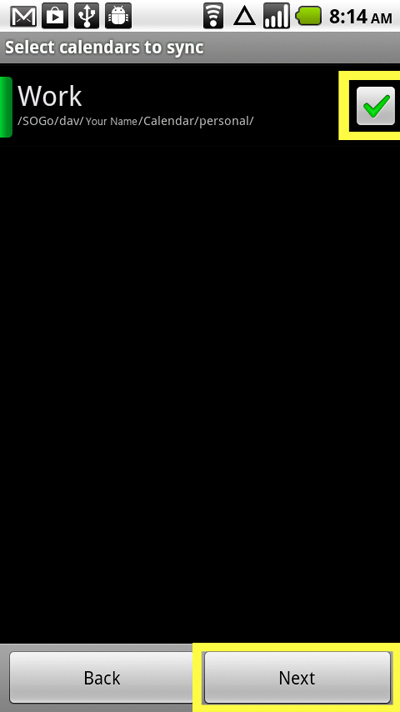 11. The App should pull in any calendars you currently have access to in SOGo. Simply check the ones you want to display. Tap Next.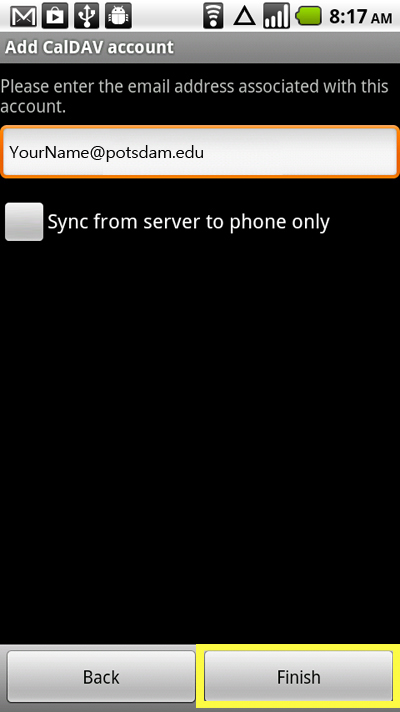 12. Ensure your email address is entered correctly here. Uncheck Sync from server to phone only. Press Finish.
13. Open Calendar from your apps list. It should populate your events over the next hour.
14. For Android 4.1 (Jelly Bean) or above users ONLY: To prevent the removal of your calendar accounts on reboot install this app:
https://play.google.com/store/apps/details?id=org.dmfs.jb.workaround.caldavsync This app will create new calendars on your device (one for each calendar on your server account).