The LTEC is pleased to announce the 2014 recipient of the LTEC Award of Excellence in Promoting Learning and Teaching at SUNY Potsdam.
Dr. Christine Doran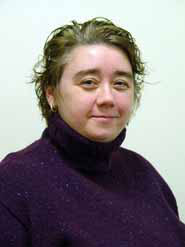 Through her leadership in a feminist pedagogy group, her generosity as a faculty mentor, and her commitment to her students and sound pedagogical practices, Dr. Doran has made significant contributions to advancing teaching and learning across the SUNY Potsdam campus. Dr. Doran, along with Dr. Libbie Freed, Department of History, has coordinated an interdisciplinary feminist pedagogy group across four departments on campus. She has taken an active leadership role in furthering the group?s discussion about the key tenets, and the importance, of a feminist approach to the classroom. Dr. Doran has furthered the discussion of the value of incorporating student experience and student voice in the classroom.
Beyond the feminist pedagogy group, Dr. Doran has served as a mentor to several new faculty members. Her guidance with regard to balancing the obligations of teaching, service, and scholarship has been invaluable professional socialization. Furthermore, Dr. Doran?s commitment to pursuing a unique and interesting research agenda while also maintaining sound pedagogical practices serves as a model for new faculty to aspire.
Finally, Dr. Doran?s dedication to her students is impressive and should be commended. She goes well beyond her normal job requirements to meet with students outside of class, to provide thorough and effective feedback on student work, and to structure course content and assignments in a creative and intellectually challenging fashion. Dr. Doran?s generosity of spirit, her dedication to sound pedagogy, and her eruditeness are great assets to the college.
Congratulations to Dr. Christine Doran who is honored with a $500 award to be used for materials to enhance her teaching and her name on our award plaque located in the Learning and Teaching Excellence Center.

Do you know someone who has gone above their normal job expectations and responsibilities to advance learning and teaching on SUNY Potsdam?s campus in a way that has made a significant and positive impact on their peers?

If so, we invite you to nominate them for the 2013-2014 LTEC Award For Excellence in Promoting Learning and Teaching at SUNY Potsdam. This $500 award is intended to recognize impact in advancing learning and teaching for the campus community beyond outstanding teaching or disciplinary research.