Goal: $7,000,000
Your gift will provide flexibility and allow for diverse and unique opportunities for both faculty and students through unrestricted giving.
The Annual Fund for Potsdam prepares the College to take advantage of unanticipated opportunities and meet pressing needs. From scholarships, to research and travel opportunities, to cutting edge academic equipment, unrestricted gifts ensure the College's competitive edge.
Unrestricted gifts are, without a doubt, among the most important and valuable gifts a donor can give. You can provide flexibility in adapting to exciting educational opportunities and ever-changing financial challenges for students and faculty. An unrestricted gift to The Fund for Potsdam means "I trust you to use my gift to meet Potsdam's most pressing need - to determine where my gift will make the greatest impact on students and the College's overall excellence." In essence, unrestricted funds allow the College to be more self-reliant and less dependent on unpredictable government support. An increased unrestricted fund will provide a higher level of financial security to provide for the overall educational experience and the economic security of the College.
Gifts to the College's greatest needs are used in a variety of ways to:
Ensure a college education for extraordinary students with limited means through our scholarship fund
Take advantage of unanticipated research, travel and performance opportunities arising for students and faculty
Purchase enhanced academic equipment and educational materials
Invite the world's greatest artists and scholars to campus to inspire students
Allow the College to respond to the need for new and exciting programs, based upon the demands of our ever changing global market
Help the College to meet unanticipated expenses, such as a need for additional energy funds for those unpredictable Potsdam winters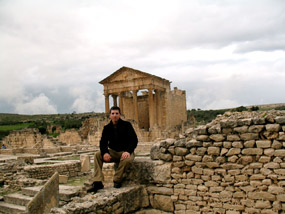 A student studies the Roman ruins of Dougga
"My professional training includes areas such as math programming and optimization.  I understand that when you apply constraints, you limit your options.  By giving to the unrestricted fund, I'm allowing the administration to make the best decisions about how to optimize their resources to benefit today's students."
Mary E. Helander, Ph.D.
Class of 1983
Master Inventor
Research Scientist; Mathematical Sciences
Research Relationship Manager, Consumer Products Industry
IBM T.J. Watson Research Center
Yorktown Heights, NY