October 28 -
December 4, 2010
Art Attack
Student Juried Show
Art Attack Juror's Lecture: Matt Burnett

September 16 - October 16, 2010





Continuation


Artist: Dave Beck

















Logjam, 2010





Closer to the Bone by
Artist: Jonathan Soard
Slaughtered Lamb, 2009

July 9 - August 6, 2010





North
Country Regional Juried
Art
Exhibition












June 1 - 17, 2010
St. Lawrence County High School Exhibition

April 23 - May 23, 2010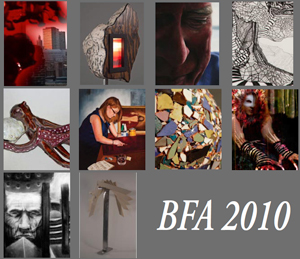 BFA Show
The BFA 2010 exhibition featured the works of 10 graduating BFA students. The work is both 2-d and 3-d and includes- paintings, drawings, photographs, video, ceramics, metal, wood, digital, and traditional prints. The following students presented their work in the BFA exhibition: Kathryne Alfredson, Megan Barnes, Sara Fernandez, Sarah Haze, Philip Keays, Kendra Matott, Alex Minnick, Jonathan Smith, Sebastian Stoddart, and Paul Ulrich.

March 4 - April 10, 2010


Warhol!



January 28 - February 20, 2010

Michael Yeomans
Rain

Art Faculty Exhibition

Participating Artists
Emily Bennett-Beck, Ed Clark, Laura Fair-Schulz, Joseph Hildreth, Mark Huff, Nathaniel Infante, Danielle Johns, Ginny Layne, Marc Leuthold, Doug Schatz, Linda Strauss, Amy Swartele, and Michael Yeomans.

The first Faculty Show in 4 years. Included work in all media.