SUNY Potsdam's Department of Theatre & Dance Presents 'Bent'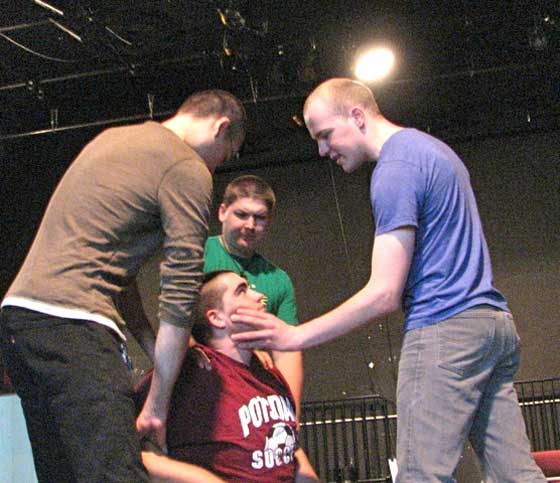 The fall main stage production from SUNY Potsdam's Department of Theatre and Dance will expose an untold story of the Nazi persecution of homosexuals during World War II. "Bent," the 1979 play by Martin Sherman, will be presented from Oct. 24 to Oct. 27 in the Black Box Theater, located in Satterlee Hall.
The title of the play came from a European slang term referring to homosexuals. "Bent" originally premiered on Broadway, and depicts how love can grow even in the face of unimaginable hardship and persecution.
Senior theatre and dance student Jason Francey picked this production for his senior project.
"I was drawn to the beautiful yet tragic love story Martin Sherman has crafted. Plus, it's a play that deals with issues very close to me," Francey said. "The cast members are going through an intense seven week rehearsal process, each putting in well over 100 hours of rehearsal time, on top of being full-time students."
The "Bent" production is a collaborative student effort, mentored by department faculty members. The ensemble cast includes Dale Hajdasz as Max, Bryan Rapholtz as Rudy, Sean Sansevere as Horst, Daniel Menendez as Uncle Freddy, Brett Hanselman as Wolf/Kapo, Duncan Lattanzio Jr. as Greta, Miles River Willow as the captain, Cameron Fredericksen as the officer, and Robert Muggeo and Alec Walsh as guards.
The show showcases the senior project work of lighting designer Rebekah Berg and set designer Kyle Kohler, as well as Francey's costume design. Additional student crew members include technical director Alec Walsh, stage manager Leia Depeche and assistant stage manager Mikayla Roberts.
The production opens on Thursday, Oct. 24 and runs through Sunday, Oct. 27. The run includes evening performances at 7:30 p.m. on Thursday, Friday and Saturday, Oct. 24 to Oct. 26. There will also be matinee performances at 2 p.m. on Saturday, Oct. 26 and Sunday, Oct. 27. All performances will be offered in the Black Box Theater, located in Satterlee Hall. Please note: This play contains adult content and situations.
Ticket prices are $10 for general admission and $5 for SUNY Potsdam students with ID. Tickets are available through the Community Performance Series Box Office, located in the lobby of the Sara M. Snell Music Theater at SUNY Potsdam's Crane School of Music. To reserve tickets, call the CPS Box Office at (315) 267-2277 or visit www.cpspotsdam.org. For advance ticket sales, students can pay with Bear Express accounts, and all can pay with credit card. Only cash and checks will be accepted for ticket sales at the door the day of the event. The Black Box Theater is wheelchair accessible; however, no sign language interpreter is available. 
To find out more about SUNY Potsdam's Department of Theatre and Dance, visitwww.potsdam.edu/theatre.
Founded in 1816, The State University of New York at Potsdam is one of only three arts campuses in the entire SUNY system. SUNY Potsdam's arts curriculum offers the full palette: music, theatre, dance, fine arts and creative writing. No matter the discipline, people from all backgrounds can find their creative compass at Potsdam, with myriad arts immersion experiences available for both campus and community.
Media contact:
Alexandra Jacobs Wilke, Office of Public Affairs,
(315) 267-2918