'Antigone 5.9' New Version of Classic Play, Debuts at SUNY Potsdam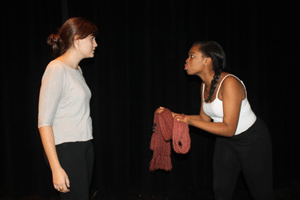 What's old is new again, with an upcoming production bringing together a story line straight out of Greek drama playing out across multiple historic backdrops. The SUNY Potsdam production of "Antigone 5.9" will bring viewers from ancient Rome, to witch hunts in the late Middle Ages, to the North Country during the Civil War, all the way to the recently-ended Iraq War.
SUNY Potsdam's Department of Theatre and Dance will premiere a new version of the classic Greek story of Antigone, the young woman who confronts immoral authority to protect and defend her brother.
"Antigone 5.9" will debut in the College Theater in Satterlee Hall, with performances running from Oct. 26 through Nov. 4.
The production is adapted from the original and directed by Associate Professor of Theatre and Dance Kimberley Bouchard.
"'Antigone 5.9' is what I am calling a 'constructed' piece. Many people, dead and alive, have contributed to it, and I have put it together," Bouchard said. "What a team effort!"
The ensemble cast of actors, dancers, musicians and vocalists will use their multiple talents to convey how the story of Antigone, the courageous young woman of Ancient Greece, is told over and over again through history. "Antigone 5.9" is a constructed piece, with elements from plays, poetry, historical documents and music from a variety of historical eras.
The production includes scenes from "Dulcitius" by Roswitha, the earliest known woman playwright from the 10th century; a scene from the end of the Civil War when women from the North Country traveled South to recover the bodies of their sons, husbands and brothers, and a piece based on the poem "So I was a Coffin" by Iraq War veteran Gerardo "Tony" Mena.
"Antigone 5.9" also includes excerpts from "Thebans" by Liz Lochhead, which she adapted from Sophocles and Euripides scripts, as well as readings from a 15th century guide to identifying, persecuting and executing accused witches in Europe. The interesting mix of content also includes readings from poetry by Walt Whitman and Civil War-era writers.
The Iraq War piece is choreographed by senior dance major Jana Prager. The production also features the choreography of SUNY Potsdam graduate Taryn L. Bowers.
The production features costume designs by the newest member of the department, Associate Professor of Costume Design and History Janet Sussman. Senior theatre major Joshua Poston is the lighting designer, working with set designers Nadine Oakes and Twiggy Bassler, both theatre and art studio majors.
Assistant Director Lilly McAvoy, a senior theatre major, directs the Civil War scene, which uses poetry and music from the era interwoven with choreography to present the aftermath of the war for the women and men from the North and South.
"The idea came from understanding the huge impact that the Civil War had on families and communities in the North Country of New York. So many men who answered President Lincoln's call for recruits for the Union Army died from this region. They left their farms and businesses to be run and cared for by the women," Bouchard said.
The music in the production features two of the few extant music pieces from Ancient Greece, performed under the musical direction of Dr. Rebecca Gerber, Crane School of Music professor of music history. Gerber also directs a choral performance of "O Ecclesia" by the 12th century composer Hildegard von Bingen, for the scenes that take place in the Abbey of Gandersheim, Germany. The chorus also performs "Lux Aeterna" by Renaissance composer Josquin des Prez.
The production opens on Friday, Oct. 26 in the College Theatre, in SUNY Potsdam's Satterlee Hall. The run includes evening performances at 7:30 p.m. on Oct. 26 and 27, and on Nov. 1, 2 and 3. There will also be matinee performances at 2 p.m. on Sunday, Oct. 28 and Sunday, Nov. 4.
Ticket prices are $12 for general admission, $10 for faculty, staff and senior Citizens, and $5 for SUNY Potsdam students with ID. Tickets are available through the Community Performance Series Box Office, located in the lobby of Sara M. Snell Music Theater at SUNY Potsdam's Crane School of Music. To reserve tickets, call the CPS Box Office at (315) 267-2277 or visit www.cpspotsdam.org.
From directing, choreographing, acting and dancing to designing and technical work, theatre and dance are highly collaborative art forms at SUNY Potsdam. Students and professionals engage in creative problem solving, requiring the setting and meeting of long-term goals and the analysis and understanding movement and dramatic literature.
To find out more about SUNY Potsdam's Department of Theatre and Dance, visit www.potsdam.edu/academics/AAS/Theatre.
Founded in 1816, The State University of New York at Potsdam is one of only three arts campuses in the entire SUNY system. SUNY Potsdam's arts curriculum offers the full palette: music, theatre, dance, fine arts and creative writing. No matter the discipline, people from all backgrounds can find their creative compass at Potsdam, with myriad arts immersion experiences available for both campus and community.
Media contact:
Alexandra Jacobs Wilke, Office of Public Affairs,
(315) 267-2918