Blueline Magazine Marks 35th Anniversary with Potsdam Celebration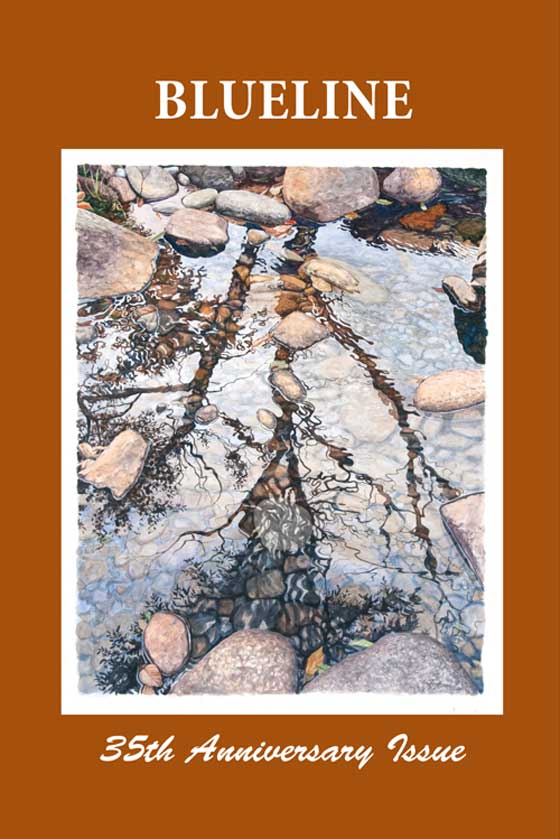 The editors of Blueline, the SUNY Potsdam literary magazine dedicated to the spirit of the Adirondacks, will mark the publication's 35th anniversary with a special celebration next month.
An evening of readings, musical entertainment, good food and good company is planned. All proceeds will benefit the publication and Potsdam College Press, as well as the Blueline in Schools program.
The festivities will be offered on Friday, Nov. 7 at 6 p.m., at the Between the Buns restaurant, located at 6 Elm St., Potsdam, NY. Tickets for this fundraiser are $40 for adults and $23 for students. Community members are welcome to attend; please note this event is only open to those over the age of 21.
The evening will kick off with a cocktail hour beginning at 6 p.m., followed by a buffet dinner at 7 p.m.
To mark the anniversary, the magazine's founding editor, Alice Wolf Gilborn, will read from her recent award-winning publication, "Out of the Blue: Blueline Essays, 1979-1989." Other Blueline writers will also be on hand to read from their works as well.
Live music will be provided by the Philadelphia-based rock trio, the John McNutt Band. There will also be a silent auction welcoming bids for glassware, gift baskets and art by Nate Infante, the featured artist in last year's edition of Blueline.
To purchase tickets, write checks payable to "Blueline Magazine" and mail them to: The Editor, Blueline, 120 Morey Hall, 44 Pierrepont Avenue, Potsdam, NY 13676. Please include your return address so that tickets may be mailed back.
Blueline, the literary magazine dedicated to the spirit of the Adirondacks, is published annually and distributed nationwide by the Department of English and Communication at SUNY Potsdam. The magazine celebrates the region's great beauty and legacy by featuring quality poetry, fiction, nonfiction and visual art. For more information about subscriptions or submissions, please visit: www.bluelinemagadk.com
SUNY Potsdam's Department of English and Communication challenges its students to complete a core of courses that explore the varied ways people speak, write and read. The department offers Bachelor of Arts, Bachelor of Fine Arts and Master of Arts programs in literature, writing, professional writing, creative writing, speech communication and English and communication. For more information, visit www.potsdam.edu/academics/AAS/Engl.
Founded in 1816, The State University of New York at Potsdam is one of only three arts campuses in the entire SUNY system. SUNY Potsdam's arts curriculum offers the full palette: music, theatre, dance, fine arts and creative writing. No matter the discipline, people from all backgrounds can find their creative compass at Potsdam, with myriad arts immersion experiences available for both campus and community.
Media contact:
Alexandra Jacobs Wilke, Office of Public Affairs,
(315) 267-2918