TJ Toyota teams up with SUNY Potsdam for sixth annual "Bear Pride Night"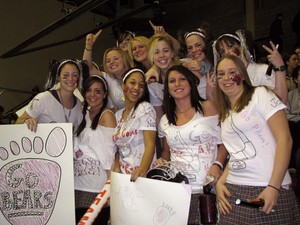 Some lucky fan may be driving off in a brand new 2009 Toyota Yaris from Maxcy Hall on Friday, Feb. 6, as SUNY Potsdam holds the sixth annual "Bear Pride Night." Once again, through the combined efforts of the Offices of Alumni Relations, Residence Life and the Bears' Athletic Department, the College invites area alumni, fans and students to attend the evening tripleheader to cheer on the Bears and take part in a number of fun activities. The evening's game schedule tips off in Jerry Welsh Gymnasium at 6 p.m. as coach Tara Ruckh's women's basketball team competes in a SUNYAC contest against SUNY Plattsburgh. The Bears men's basketball team, led by coach Sherry Dobbs Jr., follows up, also taking on the Cardinals at 8 p.m. Sandwiched between these games a few steps away in the Maxcy Hall Ice Arena, the men's hockey team, under the direction of head coach Aaron Saul, will face off at 7 p.m. against SUNY Geneseo. TJ Toyota has joined SUBWAY and Great Northern Printing in teaming up with the Bears in sponsoring what has become one of the premiere winter sports evenings in the North Country. TJ Toyota presents the featured promotion of the night to be held at halftime of the men's basketball game. Similar to the popular "Deal or No Deal" game show, a contestant will be chosen for a chance to win a 2009 Toyota Yaris, $500 or $50 by choosing from a selection of 40 envelopes and matching five envelopes with the same prize. Eight contestants will be pre-chosen on February 1, as well as two additional contestants on Bear Pride Night, with a finalist chosen just before the men's basketball halftime. "Tom Cloce and our friends at TJ Toyota have once again stepped up to provide a signature event for the night that will generate a lot of excitement," said Bill Mitchell, Bears' Assistant Athletic Director. Entries for the contest can be submitted at TJ Toyota (Rt. 56 North in Potsdam) or two SUNY Potsdam campus locations: the Barrington Student Union or Maxcy Hall. Online submissions can be found on the
www.northcountrynow.com
or at
www.potsdam.edu/athletics
. Numerous other activities will occur throughout the evening, including the ever-popular SUBWAY sub-eating team competition in between the basketball games. Free "Bear Pride" t-shirts, compliments of Great Northern Printing, will be shot from t-shirt launcher in between periods of the hockey game. In addition, drawings to win cash and prizes including a "Florida Fun in the Sun Vacation" and "Chuck-A-Puck," sponsored by the Student Athlete Advisory Council, all are part of an entertaining night for Bear fans. Admission is free for all alumni and their families by visiting the alumni "Will Call" booth located near the Maxcy Hall ticket window. Alumni will be able to enjoy reserved seating areas during each game as well. Admission also is free for all area high school students who wear their school colors. For more information about Bear Pride Night, contact Bill Mitchell at (315) 267-2307 or
mitchewj@potsdam.edu
.
Media contact:
Alexandra Jacobs Wilke, Office of Public Affairs,
(315) 267-2918