SUNY Potsdam Reinvents Virtual Tour Environment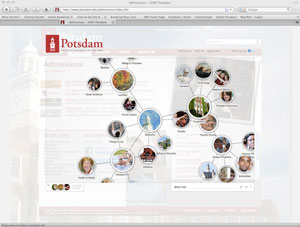 Students around New York State and the nation don't have to wait for roads to clear or rely on air or train travel to make an initial visit to The State University of New York at Potsdam. The College just launched a one-of-a-kind virtual tour to allow for anyone in the world to get a flavor for SUNY Potsdam's location, people and programs.
Visitors can find a link to the virtual tour at www.potsdam.edu/admissions.
"This is totally unique," said Director of Marketing Deborah Dudley, "which fits the personality of the College better than any of the existing cookie-cutter virtual tours out there."
According to Dudley, the Potsdam admissions team needed something to allow prospective students a way to get to know campus before making the trip. The College evaluated several virtual tour designs used by other schools, but decided that it would be worth the time and effort to create something completely customized to the SUNY Potsdam experience.
"We realized that we had to go beyond maps and photos of buildings, because it's the people and relationships that truly make SUNY Potsdam a phenomenal experience," Dudley said. "We also wanted to allow the visitors to guide themselves through their areas of interest and explore the cross-disciplinary nature of the College."
Designed like a flow chart with bubbles representing various aspects of campus, the tour allows students to connect to the information they're seeking—including photos of Potsdam people and videos about what makes the campus a dynamic learning environment. Every user gets a different experience tailored to his or her own interests. The content on the virtual tour will be constantly updated so that the experience remains fresh and best reflects what is current.
With each click, the virtual tour expands into a growing, interconnected web, showing the wealth of possibilities available at SUNY Potsdam as well as how close-knit the campus is. The tour allows visitors to drag information of interest to a dock and save it to revisit later or to share through e-mail postcards with their friends and family.
Although the virtual tour is designed to give prospective students an introduction to the College, the real purpose is to convince them to come to campus to see for themselves.
"There is no substitute for a real visit to campus," said Tom Nesbitt, director of admissions. "The online environment will hopefully be a great way for families to confirm that SUNY Potsdam really is worth the trip. When students come here they have a chance to meet the professors, other students and get a sense of how they could succeed here. That is critical to the process of selecting the right college for you."
The tour is also a great way for alumni to reconnect with their alma mater.
"Already our alumni are visiting the virtual tour and remembering their experience. Maybe it will inspire them to call friends or come to reunion," said Dudley. "That's just the icing on the cake."
The tour was built with the assistance of the Maryland-based IDFive Informed Design firm, which also collaborated with the College on the institution's award-winning website redesign in 2008.
"We needed a team of creative people to accomplish this, and we're really proud of the results," Dudley said.
To check SUNY Potsdam's new virtual tour out for yourself, visit www.virtualtour.potsdam.edu.
To find out more about visiting SUNY Potsdam, visit www.potsdam.edu/visit.
Founded in 1816, and located on the outskirts of the beautiful Adirondack Park, the State University of New York at Potsdam is one of America's first 50 colleges. SUNY Potsdam currently enrolls approximately 4,350 undergraduate and graduate students. Home to the world-renowned Crane School of Music, SUNY Potsdam is known for its handcrafted education, challenging liberal arts and sciences core, excellence in teacher training and leadership in the performing and visual arts.
Media contact:
Alexandra Jacobs Wilke, Office of Public Affairs,
(315) 267-2918