SUNY Potsdam Introduces North Country's First Little Free Library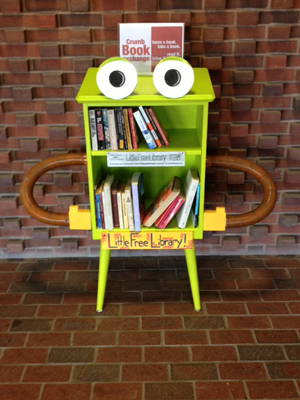 SUNY Potsdam is now home to the North Country's first Little Free Library. Located in the lobby of the Frederick W. Crumb Memorial Library, the tiny shelf contains selections of leisure reading for students, faculty, staff and community members to borrow and share.
The "take a book, leave a book" philosophy of the Little Free Library invites neighbors to find some leisure reading, then bring the book back or donate one of your own gently-used titles for others to enjoy.
The Crumb Library staff, which created the book exchange, hope that the College's Little Free Library will become a resource for both campus and community.
"We envisioned it as a way for students to blow off steam with some light reading," said User Services Librarian Elizabeth Andrews. "There are thousands of Little Free Libraries across the country and even internationally, but ours is the first officially registered in St. Lawrence County, which we are very proud of!"
Associate Director of Library Operations Keith Compeau had the idea to spice up an existing "take a book, leave a book" shelf, by adopting the Little Free Library model and making the shelf more visually appealing.
SUNY Potsdam junior Brittany Barry, a double major in psychology and art from Chittenango, N.Y., tackled the challenge. She created a tiny bright green cubby with arms, legs and giant cartoon eyes.
Since the cute little shelf took residence in the Crumb lobby across from the Satterlee Hall entrance, it has been popular with students and staff.
During the Fall 2012 finals week, the Little Free Library was moved to the second floor of the Barrington Student Union, so students who gathered there could enjoy reading for fun during breaks from writing papers and studying for exams.
For more information about Little Free Libraries, visit www.littlefreelibrary.org.
To find out more about SUNY Potsdam's Little Free Library, contact Andrews at (315) 267-3309.
For more information about the SUNY Potsdam College Libraries, visit www.library.potsdam.edu.
Founded in 1816, and located on the outskirts of the beautiful Adirondack Park, The State University of New York at Potsdam is one of America's first 50 colleges. SUNY Potsdam currently enrolls approximately 4,350 undergraduate and graduate students. Home to the world-renowned Crane School of Music, SUNY Potsdam is known for its handcrafted education, challenging liberal arts and sciences core, excellence in teacher training and leadership in the performing and visual arts.
Media contact:
Alexandra Jacobs Wilke, Office of Public Affairs,
(315) 267-2918