SUNY Potsdam Math Alliance Celebrates Pi Day on March 14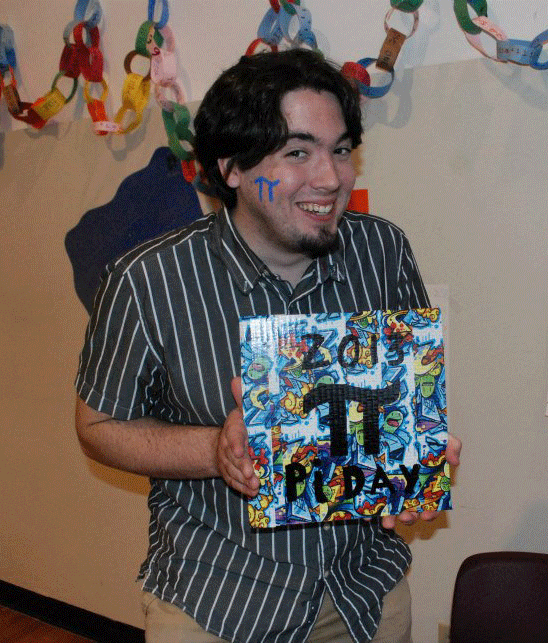 The SUNY Potsdam Math Alliance welcomes students, faculty, staff and local families of all ages to participate in Pi Day at the College.
The event will take place on Saturday, March 14, from 1 to 4 p.m. in the Knowles Conference Center Multi-Purpose Room.
Pi, a very important number in mathematics, can be rounded to 3.14. This corresponds to March 14 on the calendar, and math enthusiasts around the world often celebrate this as Pi Day.
This year, Pi Day is extra special, because 3.1415—the first five digits of pi—correspond directly to this year's date, March 14, 2015. 
Guests are invited to engage in activities such as "Math Jeopardy" and "Math Jeopardy Jr.," try their hand at origami and take part in a pie-eating contest. There will also be a fundraiser for the opportunity to "pie" a SUNY Potsdam math professor or a friend! Prizes will be awarded.
This event is free, and the public is encouraged to attend.
For more information, please contact Math Alliance faculty advisor Dr. Derek Habermas at (315) 267-2059.
The SUNY Potsdam Department of Mathematics offers both undergraduate and graduate programs. The program is based on the belief that students can succeed if they are provided with a supportive environment. For more information, visit www.potsdam.edu/academics/AAS/Math.
Founded in 1816, and located on the outskirts of the beautiful Adirondack Park, The State University of New York at Potsdam is one of America's first 50 colleges. SUNY Potsdam currently enrolls approximately 4,300 undergraduate and graduate students. Home to the world-renowned Crane School of Music, SUNY Potsdam is known for its handcrafted education, challenging liberal arts and sciences core, excellence in teacher training and leadership in the performing and visual arts. Empowered by a culture of creativity, the campus community recently launched Take the Lead: The Campaign for Potsdam, which aims to raise $27 million by the College's bicentennial in 2016.
Media contact:
Alexandra Jacobs Wilke, Office of Public Affairs,
(315) 267-2918