Famed animal photographer to share her work at SUNY Potsdam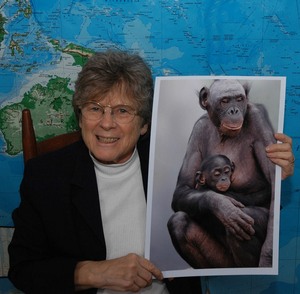 Acclaimed photographer Marian Brickner, whose pictures and vision led to the book "I'm Lucy: A Day in the Life of a Young Bonobo," will present "The Best Animal Photographer – Picture Show" on Wednesday, April 8, at 1:30 p.m. in the Crumb Library classroom at SUNY Potsdam.
Brickner, a SUNY Potsdam alumna from the Class of 1958, will share some of her photos and the stories behind them.
She became interested in bonobos, part of the "great apes," comprising of the orangutan, gorilla and chimpanzee, in the late 1990s when Franz DeWaal and Franz Lanting's book "Bonobo, the Forgotten Ape," was published.
She and "I'm Lucy" author, Mathea Levine, created the children's book to get the word out about bonobos and their similarities to humans, as our closest great ape relatives.
All profits from "I'm Lucy" go to the Bonobo Conservation Initiative and Jane Goodall's Roots and Shoots program – organizations working to save the bonobos and the Earth. The book is available for sale at the Crumb Library.
A native of New York, Brickner moved to St. Louis in 1983 and has worked as a professional photographer since then. Her photographs have been published in the "St. Louis Post Dispatch," "St. Louis Magazine," "Suburban Journal," "St. Louis Review," "West End Word," "St. Louis Symphony Playbill," "St. Louis Business Journal," "The Jewish Light," the Swedish Web site for water striders, "Missouri Conservation Magazine," the "International Journal of Arts Medicine," the "Annals of Medicine" and educational brochures.
In addition, Ms. Brickner traveled to Nairobi in the summer of 2001 with a group of Washington University School of Medicine, Neurosurgeons (members of Doctors Without Borders) and photographed surgeries at the Kenya National Hospital.
She is currently working on two projects, big horn sheep images in the Arizona Nature Conservancy for their brochures and a book of "Bonobo Family Tree," in addition to her ongoing assignments.
The presentation is free and the public is invited to attend. To learn more about Brickner's photography, visit www.bonobokids.org.
Media contact:
Alexandra Jacobs Wilke, Office of Public Affairs,
(315) 267-2918