SUNY Potsdam Professor Exhibits Work in New York City Gallery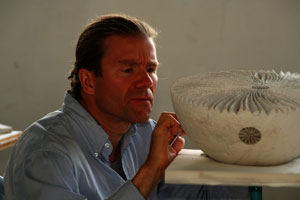 SUNY Potsdam Art Professor Marc Leuthold recently exhibited collaborative artwork with Dawn Clements at the Pierogi 2000 Gallery in Brooklyn.
The show, titled "Dawn Clements, New Work with Sculptures by Marc Leuthold," ran from Jan. 6 to Feb. 12. Dawn Clements is a two-dimensional artist well known for her large sumi ink drawings and paintings. A 360" drawing was included in the 2010 Whitney Museum Biennial in New York City. She teaches at numerous schools, including Princeton University, the Rhode Island School of Design and the California Institute of the Arts. Leuthold and Clements met at Princeton University during his 2005-06 sabbatical there.
The large front room at Pierogi Gallery was dominated by Clements' work, but reverberated with images of Leuthold's sculptures—almost like echoes of his work. The exhibit was the culmination of a collaboration that began in 2008. Clements started the project by giving Leuthold a collection of still life drawings. He then created sculptures based on the drawings.
Leuthold did not always know what the drawings represented, but regardless focused on translating value and shape into form. For example, the rendered shadow of a branch became a three-dimensional form, because in the drawing, the shadow was a strong shape. Clements in turn drew Leuthold's sculptures, which he then sculpted and Clements subsequently drew.
Some of these works were the result of five or six collaborative iterations. Clements kept a collection of Leuthold's sculptures on a worktable in her studio. The culmination of the collaboration was a mixed media work of art that included the table of sculptures and a 300" drawing of the table with the sculptures. The show, a departure for both artists, was well received, with articles running in the Huffington Post, the Village Voice and L Magazine.
Huffington Post critic Anne Couillaud described Leuthold as a "sculptor and ceramic virtuoso." For his part, Leuthold described the collaboration as a tremendous growth experience for him as an artist.
"This was an opportunity to explore representation, still life and the figure for the first time in many years. It was interesting to put my own content and direction aside and focus on another artist and interpretation. It was exhilarating," Leuthold said.
Leuthold, a leading ceramist who is celebrated for his intricately carved forms, has exhibited internationally, including at sites in Taiwan, Korea, Latvia, Japan, Switzerland and Turkey, as well as across the U.S., at venues including P.S. 1 Contemporary Arts Center/Museum of Modern Art, Long Island City, N.Y.; the Metropolitan Museum of Art, New York City; the Mint Museum, Charlotte, N.C.; the Everson Museum of Art, Syracuse, N.Y.; the Renwick Gallery of the Smithsonian Institution, Washington, D.C., and the American Craft Museum, New York City.
He has a Bachelor of Arts degree from the College of William and Mary and a Master of Fine Arts degree from the University of North Carolina, Chapel Hill. In addition to directing SUNY Potsdam's ceramics program, Leuthold has held teaching positions at Princeton University and Parsons School of Design. He is one of 40 Americans to be elected a lifetime member of the International Academy of Ceramics, in Geneva, Switzerland. Leuthold was awarded the SUNY Chancellor's Award for Scholarship and Creative Activities in 2003.
To find out more about fine arts at SUNY Potsdam, visit www.potsdam.edu/about/artscampus/finearts.
Founded in 1816, The State University of New York at Potsdam is one of only three arts campuses in the entire SUNY system. SUNY Potsdam's arts curriculum offers the full palette: music, theatre, dance, fine arts and creative writing. No matter the discipline, people from all backgrounds can find their creative compass at Potsdam, with myriad arts immersion experiences available for both campus and community.
Media contact:
Alexandra Jacobs Wilke, Office of Public Affairs,
(315) 267-2918