SUNY Potsdam to Celebrate 196 Years of Education at Charter Day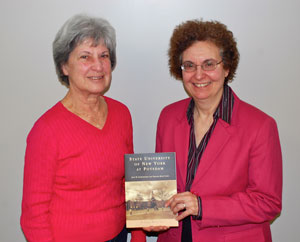 SUNY Potsdam invites the community to commemorate the College's founding by joining in its Charter Day celebration on Monday, March 26, beginning at noon in the Barrington Student Union Food Court.
SUNY Potsdam President Dr. John F. Schwaller will share a few words on the history of the College, which was founded on March 25, 1816 as the St. Lawrence Academy. A copy of the original charter will be on display, and birthday cake will be served.
In addition, College alumnae Jane M. Subramanian '72 and Virginia Rose Cayey '60 will speak about their experiences writing the recently published Arcadia Publishing Campus History series book about the history of the institution. The book boasts more than 200 vintage images and memories of days gone by.
There will be a book signing immediately following the 2012 Charter Day celebration, from 1 to 3 p.m. on Monday, March 26, in the College Bookstore, which is also located in the Barrington Student Union.
Subramanian and Cayey searched carefully through the many photographs contained in the SUNY Potsdam College Archives and Special Collections for the content of this work, which provides a sense of the College, its people, and its impact in the state and throughout the nation. Subramanian served as a librarian at the College for many years, including as college archivist from 1997 through 2011. Cayey served as a public school music teacher from 1960 to 1993.
All royalties from the sale of the book will be directed to help support the SUNY Potsdam College Archives & Special Collections, which houses extensive collections in various formats documenting the history of the College.
The book is available for sale at SUNY Potsdam's College Bookstore, located in the Barrington Student Union, or online on their website, at http://bookstore.potsdam.edu, or http://bookstore.potsdam.edu/MerchList.aspx?ID=12141.
In addition, the book is also available at other North Country bookstores, independent retailers and online retailers.
Arcadia Publishing is the leading publisher of local and regional history in the United States. Its mission is to make history accessible and meaningful through the publication of books on the heritage of America's people and places.
The State University of New York at Potsdam history book can be found online at http://www.arcadiapublishing.com/9780738576442/State-University-of-New-Y....
To find out more about the history of SUNY Potsdam, visit www.potsdam.edu/about/history.cfm.
Founded in 1816, and located on the outskirts of the beautiful Adirondack Park, The State University of New York at Potsdam is one of America's first 50 colleges. SUNY Potsdam currently enrolls approximately 4,350 undergraduate and graduate students. Home to the world-renowned Crane School of Music, SUNY Potsdam is known for its handcrafted education, challenging liberal arts and sciences core, excellence in teacher training and leadership in the performing and visual arts.
Media contact:
Alexandra Jacobs Wilke, Office of Public Affairs,
(315) 267-2918