NPR Host Grant Barrett Speaks at SUNY Potsdam Arts Festival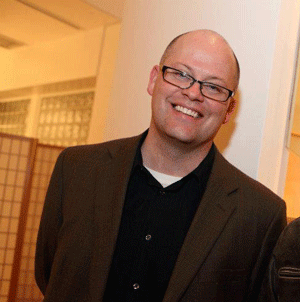 As part of the first annual Lougheed–Kofoed Festival of the Arts, SUNY Potsdam will welcome Grant Barrett, lexicographer and co-host of National Public Radio's "A Way with Words."
Barrett will give a lecture on Thursday, April 26 in the Dunn Dance Theater from 8 to 10:30 p.m. Throughout the week, he will also be speaking to classes on campus about his work.
This lecture is free, and the public is invited to attend.
About the guest lecturer:
Grant Barrett is a radio host, public speaker, lexicographer and journalist. He is co-host of the language-related public radio show "A Way with Words," independently produced in and distributed from San Diego and broadcast each week to hundreds of thousands of listeners in the United States, Canada and around the world. He is also an American lexicographer and dictionary editor, specializing in slang and new words. He compiled and edited the "Official Dictionary of Unofficial English" and the "Oxford Dictionary of American Political Slang," and maintains the prize-winning online Double-Tongued Dictionary, which tracks slang, jargon and neologisms from the fringes of English. He is also a co-founder of Wordnik, an online dictionary.
Barrett has contributed to dozens of monolingual and bilingual dictionaries in the English-speaking world, including serving as project editor of the four-volume "Historical Dictionary of American Slang." He has contributed as a lexicographer to seven prominent dictionaries and two thesauruses. He is also a member of the Dictionary Society of North America and the Linguistic Society of America.
Besides being widely quoted about language, Barrett has written about it for such newspapers as the Washington Post and the New York Times, has contributed to the British book series "The Language Report," and is a public speaker about language, dictionaries and slang. He has also written for the Malaysia Star, the journal and website Copyediting, and has worked as a business and music journalist for dailies and weeklies. He first started working in radio and print journalism in 1988.
Barrett serves as vice president of the American Dialect Society, an academic organization devoted since 1889 to the study of English in North America. He has been the chair of its New Words Committee, has edited the "Among the New Words" column of the society's journal American Speech, has served as a member of the journal's editorial review board, and still helps organize the society's annual "word of the year" vote.
Formerly, Barrett was the engagement editor for voiceofsandiego.org, an innovative nonprofit online-only newspaper. He was responsible for increasing online and offline awareness of its content and bringing community commentary, opinion and insight into its pages.
Barrett holds a degree in French from Columbia University and has studied at the Université Paris Diderot. Though born and raised in Missouri, Barrett has lived at length in New York City, Paris and the U.S. Virgin Islands, and now lives in California.
To learn more about Grant Barrett, visit www.grantbarrett.com. For more information about "A Way with Words," visit www.waywordradio.org.
The Lougheed-Kofoed Festival of the Arts encompasses all forms of artistic expression, with an emphasis on cross-disciplinary artistic experiences.
To view the schedule of events for the upcoming festival, please visit www.potsdam.edu/artsfestival.
Founded in 1816, The State University of New York at Potsdam is one of only three arts campuses in the entire SUNY system. SUNY Potsdam's arts curriculum offers the full palette: music, theatre, dance, fine arts and creative writing. No matter the discipline, people from all backgrounds can find their creative compass at Potsdam, with myriad arts immersion experiences available for both campus and community.
Media contact:
Alexandra Jacobs Wilke, Office of Public Affairs,
(315) 267-2918