SUNY Potsdam Math Alliance and CSTEP Celebrate Pi Day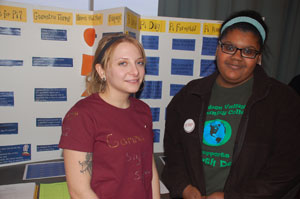 The SUNY Potsdam Math Alliance and the Collegiate Science and Technology Entry Program teamed up once again this semester to present a celebration of Pi Day, held in honor of 3.14, perhaps the most famous and important number in mathematics.
The celebration is normally held on March 14, but was offered earlier on the Potsdam campus this year. On March 7, faculty, staff, students and community members gathered in the Barrington Student Union to have fun with math, and enjoy some pie as well. Each year the groups invite the community to share their love of math with food, fun and games.
New to this year's celebration was an arts and crafts table, a story corner for younger guests, a scavenger hunt and a pie-eating contest.
The winners of the pie-eating contests were: Sean Murphy in the adult category, and Allyson Smith and Dan Smith in the kids category.
Cassie LeBauer won the Pi Recitation Contest, with 61 digits of the famous equation of 22/7.
The SUNY Potsdam mathematics program is based on the belief that students can succeed if they are provided with a supportive environment. To learn more, visit http://www.potsdam.edu/academics/AAS/Math/index.cfm.
Media contact:
Alexandra Jacobs Wilke, Office of Public Affairs,
(315) 267-2918