SUNY Potsdam Pioneer Yearbooks now Available Online, at NNY Library Network's North Country Digital History Site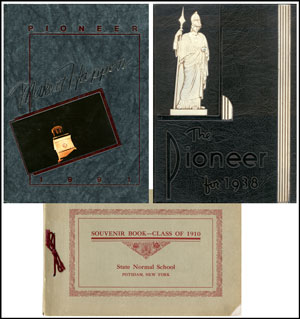 Many people may remember the days when phenomenal ice sculptures stood before Potsdam's sororities and fraternities and college students took to the stage for Cavalcade, or may even recall that SUNY Potsdam was once called Potsdam Normal School.
All of this information, plus more than 100 years of SUNY Potsdam's history may now be found online through the North Country Digital History site at history.nnyln.net, provided free of charge to the public by the Northern New York Library Network.
A total of 10,911 pages from Potsdam Normal School and SUNY Potsdam Pioneer yearbooks have been scanned and placed online.
The first edition dates back to 1897; between 1898 and 1904 there were two yearbooks issued, one in February and another in June. These early copies were relatively small, with only a few pages highlighting the College's graduates. The Pioneer was printed continuously through 1996, then with an issue in 1998, and its final edition in 2002.
"Our college yearbooks are the heaviest used resource of any contained in our SUNY Potsdam College Archives and Special Collections," noted SUNY Potsdam College Archivist Emerita Jane Subramanian. "When searching for information in the past, archives staff and patrons have had to search page by page through yearbooks to find needed information. In the case of some research needs, the exact or approximate dates are unknown, which has resulted in having to search manually through several years of yearbooks, sometimes to no avail
"Researchers searching for content information for our permanent exhibit on the history of the College, located in the Mary E. English Commons in Satterlee Hall, particularly struggled to find needed information through this frustrating, cumbersome, and time-consuming manual process," Subramanian said. "The ability of patrons to access and use our run of yearbooks no matter where they are located is a tremendous benefit. In addition, the keyword search capacity will increase the ability to retrieve needed information in a significantly reduced amount of time with better results.
"Given that planning is already underway on campus for SUNY Potsdam's Bicentennial Celebration in 2016, the completion of the digitization of our yearbooks for availability at this point is particularly timely. Our entire campus community has been very excited about this project to digitize our yearbooks, and I know they will put the new digitized resource immediately to good use," Subramanian said.
Some of the highlights found among the pages of the Pioneer include such things as the "class prophecies," and a feature called the "Senior Class Key of Knowledge to the Junior Class" in the earlier years. Then there were hit artists Peter Frampton and Blue Oyster Cult who came to play on campus, along with visits by politician Geraldine Ferraro, and MTV's Remote Control "Out of the Basement" series duo Ken Ober and Colin Quin. And let's not forget famed Crane graduates Renée Fleming, Stephanie Blythe and Lisa Vroman, who all make appearances in the yearbook pages.
For more information about the SUNY Potsdam College Archives and Special Collections, visit http://potsdam.libguides.com/archives.
Founded in 1816, and located on the outskirts of the beautiful Adirondack Park, The State University of New York at Potsdam is one of America's first 50 colleges. SUNY Potsdam currently enrolls approximately 4,350 undergraduate and graduate students. Home to the world-renowned Crane School of Music, SUNY Potsdam is known for its handcrafted education, challenging liberal arts and sciences core, excellence in teacher training and leadership in the performing and visual arts.
Media contact:
Alexandra Jacobs Wilke, Office of Public Affairs,
(315) 267-2918