SUNY Potsdam names prestigious 2009 President's Award winners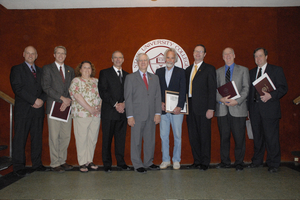 A total of 10 faculty and staff members recently were honored by SUNY Potsdam with the prestigious President's Awards for Excellence.
Dr. John F. Schwaller, president of SUNY Potsdam, awarded Advancement Secretary Jean Centrella the President's Award for Excellence in Clerical Service,
Professor of Biology Dr. Walter Conley the President's Award for Excellence in Teaching, Assistant Professor of Anthropology Dr. Alan Hersker the President's Award for
Excellence in Community Service, Associate Librarian Edward Komara the President's Award for Excellence in Research and Creative Activities and Director of the
Counseling Center Jeffery Lazovik the President's Award for Excellence in Professional Service.
Dr. Schwaller also awarded Program Administration Chair of Music Education Dr. Peter McCoy the President's Award in Academic Advising; Assistant Professor of Archaeology Dr. Benjamin Pykles the President's Award for Excellence in Improving Campus Climate and Promoting Community Outreach; Senior Assistant Librarian
Jenica Rogers-Urbanek the President's Award for Excellence in Professional Service; Cleaner Eileen Sullivan the President's Award for Excellence in Maintenance, Policeor Food Service; and Professor of English and Communication Dr. Alan Steinberg the President's Award for Excellence in Research and Creative Activities.
Jean Centrella
Centrella manages many responsibilities within the Advancement Division, including the workflow of the vice president and the Foundation Board in an efficient and effective manner. She enjoys new challenges and recently undertook the use of Blackboard as an efficient and cost saving way to communicate with the Foundation Board, which has been an overwhelming success.
Dr. Walter Conley
Dr. Conley's teaching excellence has been recognized regularly. The freshman honor society Phi Eta Sigma regularly recognizes Dr. Conley as one of the top five faculty on campus. In 2006, Phi Eta Sigma named him Outstanding Teacher of the Year. Dr. Conley has been among the top five faculty members for the Career Services Outstanding Faculty Award for several years.
Dr. Conley has made significant contributions to the biology program at SUNY Potsdam. He was responsible for the addition of a specialization in marine biology, was the first to offer an online biology course and was significantly involved in developing a biology course for future elementary teachers.
Dr. Alan Hersker
Dr. Hersker coordinated the Sackets Harbor Historical Society's Oral History Project and is currently engaged in a similar Oral History Project working with Potsdam's museum director and other members of the community. He is an active member of the Board of Directors for TRIAD Potsdam, a local senior citizens' organization that provides educational programming, sponsors social activities and engages in outreach and advocacy.
Always the consummate educator, Dr. Hersker encourages students to work with organizations outside the classroom. Through active involvement in the Service Learning Program, he has engaged students in understanding issues facing the elderly, had students surveying memberships of professional organizations to solve problems of declining participation in group meetings and had students working with archivists at public institutions to create oral history collections to serve community needs.
Edward Komara
Komara is a nationally recognized scholar of Blues music and has published several monographs and served as the editor for the critically acclaimed "Routledge Encyclopedia of the Blues." His work was included in a major sound recording retrospective of the work of legendary blues singer Charley Patton, titled "Screamin' and Hollerin'." This set won a Grammy award in 2002.
Komara recently was awarded the Richard S. Hill Award from the Music Library Association for his article "Culture Wars, Canonicity, and A Basic Music Library" published in "Notes—Quarterly Journal of the Music Library Association." He also received the Award for Excellence in Historical Sound Research in 2002 and again in 2007 from the Association for Recorded Sound Collections.
Jeffery Lazovik
Lazovik has actively been involved in a program called QPR (Question, Persuade, Refer), which involves a strategy for responding to students in crisis and preventing suicide. Once a certified QPR trainer, he created a plan to provide the training to those on campus most connected and influential to students.
He is a key member of the Behavioral Evaluation Committee that evaluates and recommends help for students that have been identified at risk. His insight and contributions to this committee illustrate his sincere concern for the welfare of SUNY Potsdam students.
Dr. Peter McCoy
Dr. McCoy takes his responsibilities as first-year adviser seriously along with his commitment to helping his advisees become successful. He takes a genuine interest in his advisees and often engages them in conversation outside the classroom setting. He performs along with students in Crane ensembles, serving as a role model.
Dr. McCoy's assistance has been invaluable helping students find ways to manage their music degree program requirements, and he offers his advisees a practical, balanced perspective about how the various components of their musical training complement each other in their studies and in their future careers.
Dr. Benjamin Pykles
Dr. Pykles has been persistent in his leadership to improve religious tolerance and understanding by working with the community outside the classroom, and his recent field school in Utah has helped his students understand more about the Church of Jesus Christ of Latter Day Saints.
Since 2006, Dr. Pykles has served as vice president and president of the Ministerial Association of Potsdam, which strives to celebrate unity and diversity of faith, providing mutual support to conduct acts of compassion and justice and increase opportunities for spiritual growth. He is dedicated to building respect through understanding for the Potsdam community.
In 2008, he began a long-term research project with Potsdam students excavating Iosepa, an extinct settlement founded by Mormons from Polynesia. Through this exploration, students were more aware of the cultural impact of archaeology and the challenges and benefits of working with community members to carry out archaeological research.
Jenica Rogers-Urbanek
In her work as collections development coordinator in the Crumb Library, Rogers-Urbanek has transformed how the library manages its collections and is recognized as a leader in collection management among SUNY librarians. She was recently recognized and named as one of "Library Journal's 2009 Moves and Shakers," a recognition that goes to just 50 librarians in the United States and Canada.
Under Rogers-Urbanek's leadership, SUNY Potsdam's Collection Development Policy has been revised to reflect an increasingly dynamic and Web-driven acquisitions environment.
She has been a co-leader of an initiative among the SUNY comprehensive colleges to develop ways to coordinate collection development across those colleges to broader the resources available to SUNY faculty and students.
Eileen Sullivan
Sullivan has served on the custodial staff at The Crane School of Music for many years and has consistently provided excellent service in her work. Her efforts have a positive impact on the learning environment of students and the work lives of faculty and also presents an inviting image of the College to thousands of community members who visit The Crane School of Music.
Sullivan is always ready to go beyond her normal responsibilities to help when needed at Crane events. She is an excellent ambassador for the school. In addition to her assigned duties, she supports students by spending her personal time attending the recitals and concerts of the Crane community.
Dr. Alan Steinberg
Dr. Steinberg's impressive publication history demonstrates the rich and varied career of an active writer. His play, "Yosemite," was put on as a major production by SUNY Potsdam two years ago. He has collaborated with Dr. Paul Siskind by writing the libretto for the opera, "The Sailor-Boy and the Falcon," and was involved in the production of the stage play "Molly Brant: A Play in Voices."
As an educator, Dr. Steinberg believes in students' ability to become writers and shares his knowledge and experience openly. He has contributed greatly to the collective creative writing spirit on campus.
Media contact:
Alexandra Jacobs Wilke, Office of Public Affairs,
(315) 267-2918