SUNY Potsdam Students Recognized for Winning Business Plan Competition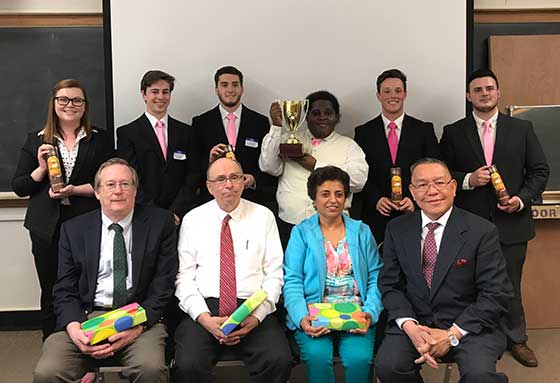 SUNY Potsdam's Department of Business Administration recently hosted its 47th Business Plan and Product Prototype Competition. The winning student team was honored for its presentation of an LED-backlit mirror with compartments for beauty accessories, designed for use in college residence halls.
More than 35 students in the "Strategic and Global Management" course took part in the competition. Six teams completed a prototype of their product idea and developed 100-page business plans, which they then advocated with 20-minute presentations. The teams also created marketing posters, which were displayed in the Department of Business Administration on the second floor of Dunn Hall. A panel of external judges scored the teams on the feasibility of their ideas, the profitability potential and consumer demand for their product idea.
The theme for the Spring 2017 semester competition was "doors." The teams' ideas included a door blind that transforms into a message center, a door handle lit by UV lights to kill bacteria, a gadget surrounding door knobs to kill germs on contact, a hanging door organizer and a door stopper strong enough to deter home invasions, as well as the winning idea.
The judges announced the winning team on May 10, which was comprised of students Megan Colle, Craig Darcy, Chris Gray, Johnathan Jones, Stephen Lewis and Xavier Ryan. The panel of judges included Dr. Savita Hanspal, Dr. David Kistler and Dan Hayes.
"Students experienced the anxiety of working in randomly-formed teams, the uncertainty of developing realistic business plans, the challenge of building the prototypes, the anguish of presenting to judges, and the exhilaration of competing with other teams," said Dr. Edwin J. Portugal, who pioneered the event. 
He said that students develop skills that could be valuable in their future employment.
"Just two weeks ago, I bumped into a former student from 23 years ago, and we ended up talking about her team project. She vividly remembered the product and business plan they created. She may have forgotten some of the theories of business, but the experiential challenge of working in teams and creating a business plan was quite memorable for her," Portugal added.
The competition was introduced in Fall 1993. Since then, more than 1,000 students in the SUNY Potsdam business administration program have participated over the course of 24 years.
SUNY Potsdam's Department of Business Administration is accredited by the International Assembly of Collegiate Business Education. The department offers flexible bachelor's and master's degrees in competitive fields, and provides students with an understanding of how for-profit and non-profit organizations function efficiently and effectively. For more information, visit http://www.potsdam.edu/academics/SOEPS/BusinessAdmin.
Founded in 1816, The State University of New York at Potsdam is one of America's first 50 colleges—and the oldest institution within SUNY. Now in its third century, SUNY Potsdam is distinguished by a legacy of pioneering programs and educational excellence. The College currently enrolls approximately 4,000 undergraduate and graduate students. Home to the world-renowned Crane School of Music, SUNY Potsdam is known for its challenging liberal arts and sciences core, distinction in teacher training and culture of creativity. To learn more, visit www.potsdam.edu.
Media contact:
Alexandra Jacobs Wilke, Office of College Communications,
(315) 267-2918