Branching Out with Books Marks First Year at Area Schools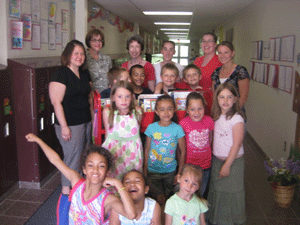 Children at two North Country elementary schools celebrated the completion of their first year in a collaborative literacy program with undergraduate mentors from SUNY Potsdam and St. Lawrence University.
The Branching Out With Books Program involved high-needs students at Jefferson Elementary School in Massena, Hermon-DeKalb Central School in DeKalb Junction and the Akwesasne Library on the St. Regis Mohawk Reservation. The program was established in 2011 with a grant from the Charles R. Wood Foundation.
The pilot program grant enabled 36 students from the two colleges to travel to the schools and library each week to work with more than 275 children on their literacy skills, while building self-confidence and instilling a love of reading and writing. It also expanded upon successful existing programs at two of the schools.
Program activities included one-on-one tutoring in reading and writing; digital storytelling culminating in "film night" for the students and their families; a book cart program; reading games; a visit to Brewer Bookstore at St. Lawrence and a pre-teen book club. The program also involved 13 teachers and two after-school program coordinators at the schools and library.
Duane Richards, principal of Jefferson Elementary School, is a big fan of Branching Out With Books and Books on Wheels, which he believes have brought a wonderful sense of achievement and pride to the school.
"Can you imagine an environment in which classes ferociously compete to accumulate the most reading points in a month?" he said. "Would you ever believe that elementary students could carry on extensive conversations as to why they prefer to read a Gary Paulsen book over a Beverly Cleary one? Have you ever seen 40 third-grade students lying on beanbags and blankets in the principal's office reading their favorite novel because they finished lunch early? These are all new realities at our school."
Branching Out With Books was designed and implemented by a team of educators and administrators from the two colleges and schools. The team included Jefferson Elementary School literacy specialist Faith Bish and first-grade teacher Mary Russell, both SUNY Potsdam alumnae; Marta Albert and Kathryn Jeror of SUNY Potsdam's literacy education department; Tina Wilson Bush, director of SUNY Potsdam's Sheard Literacy Center; Nancy Griffin, SUNY Potsdam development officer; Glory Cole, director of the Akwesasne Library; Randy Sanders, coordinator of Hermon-DeKalb's extended day program; Brenda Papineau, director of community-based learning partnerships at St. Lawrence; Adele Towne, adjunct education professor at St. Lawrence, and Carol Smith, grants manager at St. Lawrence. Tiffany Maynard, a student in the SUNY Potsdam literacy specialist graduate program, developed and implemented the digital storytelling club for fifth- and sixth-graders at Jefferson Elementary.
The Branching out with Books (BOWB) program builds upon the success of Books on Wheels, developed by Bish for her students. From its inception in fall 2010, Books on Wheels has put more than 6,000 books into the hands of Jefferson students. Due to the generosity of the Charles R. Wood Foundation, she was able to enhance her program with the addition of reading mentors from SUNY Potsdam and a new heavy-duty book cart and mobile storage book display case. The children thoroughly enjoyed their Wednesday "Branching Out" sessions, as they constantly asked their teachers "Is it Wednesday yet?"
"Funding from programs such as BOWB gives programs such as ours the opportunity to ensure that our students are able to become successful lifelong readers and learners," Bish said.
In addition, classroom teachers have remarked that they have seen notable improvements in students' attitudes toward learning and a great enthusiasm for reading and writing.
"I am always looking for more opportunities to work with my students in a small group setting. With the BOWB program, I was able to work with my own students as well as others on specific areas of academic need," Russell said. "After the first week of the program, my students were all asking, 'Can I go to BOWB?' It was a great opportunity for all of the students to explore many different book genres, and to have uninterrupted reading time based on books they chose for themselves."
At Hermon-DeKalb, the Wood Foundation grant enhanced an already strong program called Reading Buddies, which involved approximately 20 St. Lawrence undergraduates traveling to the school once a week to work one-on-one with fourth-grade students who were referred by their school counselor or teacher. The children wrote and illustrated their own books, which were then bound and given to each of them. The children also participated in word games and a trip to the Sullivan Student Center to watch a big-screen movie version of a book they had all read as a group. The Wood Foundation grant also provided funds for purchasing a wide variety of grade-level appropriate books, art materials, a camera-printer for the bookmaking project, a book cart and locking storage cart.
By year's end, the St. Lawrence students noted a marked increase in the children's confidence levels and enthusiasm for reading as a result of the personal relationship the children developed with their college mentors. The mentors also noticed that the children who had previously struggled with reading picture books were picking out chapter books on their own.
According to Randy Sanders, who coordinates Hermon-DeKalb's extended day program for approximately 50 children, the 21 students who participated in Branching Out With Books had the best attendance records and seemed to get more out of the program than the other students. He is very appreciative of St. Lawrence's Reading Buddies, who he says "have provided a significant enhancement to our curricular offerings for students who tend to need the extra help. This is particularly true during times of tight budgets and increasing needs."
The third Branching Out With Books site last year was the Akwesasne Library, where two St. Lawrence sophomores established a small book club for elementary and middle school students. Program organizers hope to get more area children excited about using the library and plan to invite two new sites to join the program next year to serve the Akwesasne community, the Akwesasne Boys and Girls Club and the St. Regis Mohawk School. Organizers are also hoping to add Madrid-Waddington Elementary School to the list of sites for Branching Out With Books in the 2012-13 academic year.
The program teams at SUNY Potsdam and St. Lawrence are very grateful for the grant assistance provided by the Charles R. Wood Foundation in helping to launch the program in 2011-12, and also for a second grant award to support its expansion in 2012-13.
To learn more about the Sheard Literacy Center at SUNY Potsdam, visit www.potsdam.edu/academics/SOEPS/litcenter.
Founded in 1816, and located on the outskirts of the beautiful Adirondack Park, The State University of New York at Potsdam is one of America's first 50 colleges. SUNY Potsdam currently enrolls approximately 4,350 undergraduate and graduate students. Home to the world-renowned Crane School of Music, SUNY Potsdam is known for its handcrafted education, challenging liberal arts and sciences core, excellence in teacher training and leadership in the performing and visual arts.
Media contact:
Alexandra Jacobs Wilke, Office of Public Affairs,
(315) 267-2918