PACES Chef wins Silver Medal at NACUFS Culinary Challenge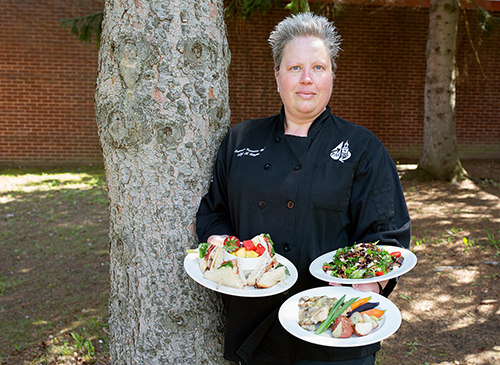 Amy Conger, executive chef for Potsdam Auxiliary College Educational Services (PACES), won a silver medal at the Northeast Regional National Association of College and University Food Services Culinary Chef Competition in Groton, Conn., on March 12.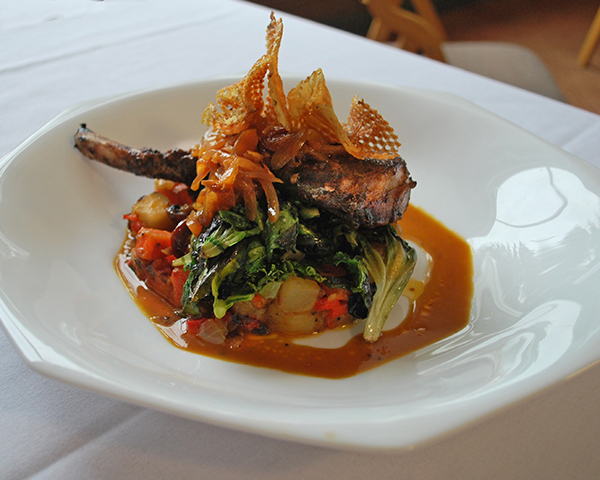 Conger's dish was pan seared mocha rubbed "frenched" pork chop with root vegetable hash, wilted greens and sour cherry and quince compote.
Individual competitors had 60 minutes, with ten additional minutes for plating, to prepare four portions of an original hot entrée, featuring the mandatory protein of bone-in pork loin, side dishes and sauces to create a balanced plate. No advance preparation or cooking was allowed.
For nearly 60 years, the National Association of College & University Food Services has been supporting the college and university foodservice industry by providing members with the programs and resources they need to excel—from benchmarking and best practices to educational programming and professional networking.
NACUFS was founded in 1958 by a group of 20 college and university foodservice professionals from across the United States. The brainchild of Richard Lichtenfelt, then director of dormitory food services at Central Michigan University, NACUFS became the first association solely focused on foodservice in colleges and universities. Since its inception, NACUFS has focused on its mission to promote the highest quality of foodservice on school, college, and university campuses by providing members with educational and training opportunities, technical assistance, scholarships, industry information, and research.