SUNY Potsdam Launches New Early College Academy For High School Juniors and Seniors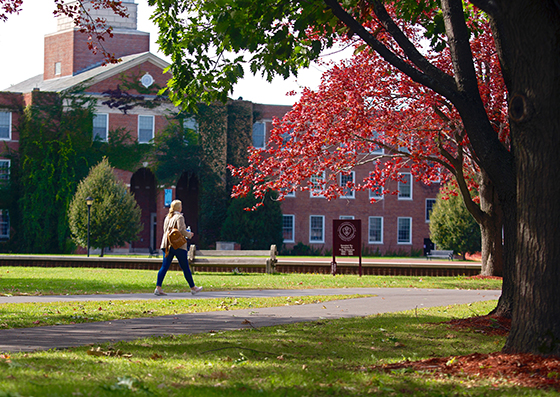 The State University of New York at Potsdam is proud to announce the launch of a new early college academy that will allow motivated high school students to jumpstart their undergraduate studies at SUNY Potsdam, while also completing their high school degree.
College Unlimited at SUNY Potsdam (CUSP) will launch in Fall 2017, becoming only the second program of its kind in Northern New York. The early admission program allows ambitious high school juniors and seniors to become full-fledged college freshmen.
"College Unlimited at SUNY Potsdam is one of our most exciting new initiatives. Through this early college entrance program, we can provide opportunities for high-achieving high school students, helping to set them on the road to success," said President Kristin G. Esterberg.
The new program allows students to fulfill their high school graduation requirements, while at the same time taking courses as full-time matriculated SUNY Potsdam exploratory students and exploring classes in different disciplines. CUSP students will receive personalized advisement and access to unique classes and applied learning opportunities.
CUSP will also offer a living-learning opportunity, with specially dedicated housing and residential programming designed for participating students' needs. Students in the program will be able to take full advantage of campus life, from recreational athletics to joining clubs and organizations.
"College Unlimited at SUNY Potsdam provides access to students who are ready to begin college early, by helping them develop their goals through an integrated liberal arts curriculum. The strength of that curriculum is at the heart of the SUNY Potsdam mission. We will offer students the tools they need for discovery and exploration, while also providing a personalized experience, as they transition into college life," said Provost and Vice President of Academic Affairs Bette S. Bergeron.
As students at SUNY Potsdam, CUSP participants will be able to choose from coursework in more than 40 majors and 40 minors, and they will have full access to student support services.
"Our commitment to the participants of this program will be deeply rooted in personalization, so that each student can maximize all that Potsdam has to offer," said Coordinator of Early College Programs Karla Fennell.
In order to be eligible for the College Unlimited at SUNY Potsdam program, students must be a rising high school junior or senior, having completed 14 or more academic units with a B average or higher. Applicants must demonstrate that they possess the maturity to adjust to college life, and they are also asked to submit two letters of recommendation, including one from a high school principal or guidance counselor, and another from a teacher of an academic subject.
Students in the CUSP program can select from three options in order to complete their high school requirements. They can either graduate from high school (early, mid-year or at the end of the school year), complete their diploma through the New York State Education Department or take the Test Assessing Secondary Completion (TASC) exam.
CUSP students are eligible for local scholarships and the New York State Tuition Assistance Program to help finance their studies. Following the completion of their high school diploma, students will be eligible for federal financial aid as well.
To set up a campus visit or to find out more, contact the SUNY Potsdam Office of Early College Programs at earlycollege@potsdam.edu, or by calling (315) 267-2166 or 1 (800) 458-1142.
To view a sample schedule and find out more about the application and completion requirements for College Unlimited at SUNY Potsdam, please visit www.potsdam.edu/earlycollege.
Founded in 1816, The State University of New York at Potsdam is one of America's first 50 colleges—and the oldest institution within SUNY. As the College marks its bicentennial in 2016, SUNY Potsdam is celebrating a 200-year legacy of pioneering programs and educational excellence. The College currently enrolls approximately 4,100 undergraduate and graduate students. Home to the world-renowned Crane School of Music, SUNY Potsdam is known for its challenging liberal arts and sciences core, distinction in teacher training and leadership in the arts. Empowered by a culture of creativity, the campus community recently completed Take the Lead: The Campaign for Potsdam, which raised $33.5 million for scholarships and programs.
Media contact:
Alexandra Jacobs Wilke, Office of Public Affairs,
(315) 267-2918