Six SUNY Potsdam students strike gold this summer at Nevada and Alaska mines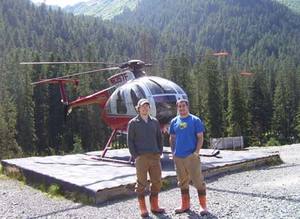 Six SUNY Potsdam geology students spent their summer interning at gold mines in Alaska and Nevada and getting a first-hand look at the rewards and challenges of working in the mining industry.
Douglas Eck of Attica, Dan Ingersoll of Buffalo, Jake Seller of Saranac and Josh Sovie of Ogdensburg spent three months in Nevada working for Barrick Gold Corp., the largest gold mining company in the world. Garrett Lee of Hopewell Junction and Nathan Peirce of Heuvelton were on duty in Alaska with Hecla Greens Creek Mining Company.
The students were encouraged by SUNY Potsdam Assistant Professor of Geology Dr. Christopher R. Kelson to apply for summer internships in the mining industry. Dr. Kelson, who has worked with several international mining companies since 1992, served as the students' academic advisor and helped them set up the internships.
"The internships provide each student with a unique and challenging opportunity to use their geological knowledge learned at SUNY Potsdam to address real-world issues and problems. The internships also reveal potential career paths within the mining industry that exist for students who earn a degree in geology. Internships within the mining industry are highly competitive and have traditionally been filled by students from the large mining-oriented schools. The mere fact that eight of our students were awarded internships over the past two summers, with six internships completed just this summer alone, is astounding," Dr. Kelson said.
"The summer internships are not easy and carry a lot of responsibility. The students are continually working with other mine geologists, staff and interns and the decisions and determinations they collectively make ultimately affect hundreds of workers and the overall mining operation," Dr. Kelson noted.
Even though his days started by waking up at 3 a.m. to catch the 4:30 a.m. bus to get to his work location in Crescent Valley, Ingersoll said the long days and hard work were well worth it for the experience he and the others working in Nevada received.
"I logged core that the drill rigs retrieved from the surrounding area, mainly from the Cortez Hills area, which is a new project. I washed, photographed and stored the core boxes in the new warehouse," Ingersoll said. "Above all, my favorite job was actually assisting Dr. Kelson out in the field. I got a lot of hands-on field experience as an exploration geologist that other geologists at the mine weren't getting. I helped collect samples for analysis and wrote descriptions and now I am doing laboratory research with Dr. Kelson on the samples we collected."  
Eck's expertise in the field earned him a position at the Barrick Goldstrike Mine as a mine geologist for the next two years. He began his internship on June 6th and is still there mapping the geology and geologic structures on the open pit highwall, logging core samples for rock mechanics, drilling, and monitoring highwall stability.
"Potsdam prepared me very well," Eck noted. "My structural geology course was very important and I use it daily when mapping. The gold is very much structurally controlled, so being able to identify structures is a must."
Sovie agreed that his time at Potsdam was instrumental in his success at the Barrick Cortez Gold Mine.
"I was most surprised about how much I had learned here at Potsdam. I was nervous about whether or not I had learned enough to be able to do a real geology job," Sovie said. "After I started though, I realized that had more than enough knowledge not only to do a good job, but a great job. My supervisors were continuously impressed by the knowledge the other Potsdam geologists and I received here at Potsdam."
His work at the mine has now heavily influenced his career path.
"I had planned to go to graduate school for geophysics, but I wasn't sure what branch," Sovie said. "Now I know I want to pursue the mineral exploration branch of geophysics. I was offered another internship next summer and am planning on going back for another summer before graduate school."
The area in Alaska that Lee and Peirce worked in was so remote, they had to be flown in and out by helicopter everyday.
"We flew in a helicopter out to our starting destination in the woods where we would take soil samples and GPS points or do geologic mapping," Peirce said. "Garrett and I also did core logging, inspected surface drills, helped build drill pads and did some line cutting."
Lee noted that beyond the work at the mine, there were many enriching experiences with the wildlife. As an environmental studies minor, he enjoyed taking hundreds of photos of the beauty around him.
"There is so much wildlife out there," Lee said of the Admiralty Island, AK, location. "I saw humpback and killer whales and salmon jumping in the air multiple times up out of ocean. I saw both The Herbert and Mendenhall Glaciers, mountain goats, ravens, black-tailed deer and grizzly bears only 50 feet away in the woods."
All six of the interning students recommend that all students make an effort to participate in internships during their academic career.
"If anyone is thinking about doing a summer internship in any field, I would highly recommend it," advised Sovie. "Not only will you get to find out what its like working in your field in the real world, you will also make lots of new friends and important business contacts."
Seller agrees. "I strongly suggest that students take opportunities like this and run with them," he said. "It's a once in a lifetime experience that can lead to a job straight out of school. If nothing else, it sets good guideline to what students may or may not want to do after leaving school."
Of the eight students who took part in mining internships over the last two years, three have been offered and have accepted full-time jobs with the companies and others have received extended employment offers as a direct result of successfully completing their respective summer internships.
"We could not be more proud of these students," Dr. Kelson said. "They all completed their respective internships in a highly professional manner and did a great job. They have helped establish SUNY Potsdam in the mining industry and have shown that our students are among the best there are and can compete with anybody."
The students will be sharing their summer internship experiences on Wednesday, Oct. 29, and Wednesday, Nov. 12, as part of the Brown Bag Seminar Series offered by the Department of Geology. Presentations will begin at noon in Timerman Hall 121.
The event is free and the public is invited to attend.
For more information about SUNY Potsdam's Department of Geology, visit http://www.potsdam.edu/geol/.
Media contact:
Alexandra Jacobs Wilke, Office of Public Affairs,
(315) 267-2918