SUNY Potsdam student earns honors in international competition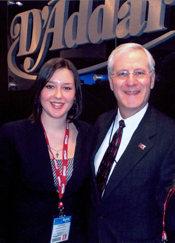 Alexandra "Sasha" Shatalova, a SUNY Potsdam senior from New Paltz, recently was awarded second prize in the First International Double Reed Society (IDRS) Young Artist competition for oboe.
Shatalova competed against 33 young oboists from colleges and conservatories in the United States, Canada and China. The final stage of the competition, restricted to artists who have not reached their 22nd birthday, was held in July at the 2008 IDRS Convention in Provo, UT, on the campus of Brigham Young University. Shatalova received a $1,000 cash award for her placement in the competition.
The other two finalists were from the Eastman School of Music and the University of Michigan School of Music.
A student at Potsdam's internationally renowned Crane School of Music, Sasha studies oboe with Dr. Anna Hendrickson. In addition to her performance major, she minors in music business. This summer, she selected to study at the prestigious Banff International Music Festival in Alberta, Canada. This past January as part of the Crane Institute for Music, she interned for RICO reeds at the annual NAMM Show, the largest music products trade show in the United States.
In May at the Crane School Honors Convocation, Shatalova was selected as the Presser Scholar, a national award reserved for students who meet the high musical and academic standards required by the Presser Foundation. It is the most prestigious award presented to undergraduates by The Crane School of Music.
As a winner of the Crane Concerto Competition, Shatalova will be a soloist with the Crane Symphony Orchestra during the 2008-2009 concert year.
Shatalova is a graduate of New Paltz Central High School and is the daughter of Paul and Valentina Shatalov.
Media contact:
Alexandra Jacobs Wilke, Office of Public Affairs,
(315) 267-2918