New student fitness center opened in Lehman Hall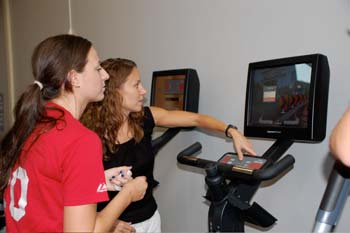 In an age when it's all too easy to find that excuse not to exercise regularly, SUNY Potsdam is helping its student population to take advantage of a workout solution close to home – right in the residence halls.
SUNY Potsdam recently opened a new student fitness center in Lehman Hall to encourage resident students to adopt healthy lifestyles by providing opportunity to exercise close to their dorm rooms.
This new center is an addition to the main exercise facility, the Shane T. Shaul Fitness Center in Maxcy Hall, and houses 12 pieces of cardiovascular equipment, including treadmills, adaptive motion trainers, elliptical trainers and computer-based stationary bikes. There are also small dumbbells, medicine balls, stability balls and matting. Digital lockers available for student use during workouts.
"SUNY Potsdam has been extremely proactive in providing space, equipment, programming and personnel for students and the college community as a whole to increase the physical activity in their daily lives," said Tanya Hewitt, director of the fitness centers. I've been very impressed by the college's commitment to the health and well being of our students. Fitness equipment is a very large investment and it's nice to see that emphasis placed in this area."
Hewitt noted that the Lehman Fitness Center has been well utilized by students.
"The feedback from students has been positive," she said. "They enjoy the new equipment and are appreciative of the space. We are collecting suggestions from users to make sure we are addressing the general need."
"I am very ecstatic that we now have a gym in Lehman," said junior Shaneah Daise, a creative writing and drama major from Brooklyn, NY. "Now that we have a gym that is close to the residents living on campus, working out will be like studying in the library. All we needed was a place that was close and held the right equipment, and we all would make the time to use it. I strongly believe the new fitness center is a wonderful asset to the campus."
The Maxcy Hall Fitness Center is sometimes in significant demand, so when College officials were looking at refurbishing Lehman Hall, they noted the lounge area was being under utilized. With it being the most distant residence facility from Maxcy Hall, the Physical Plant, Office of Residence Life and Hewitt worked together to bring the new exercise area to a reality.
While the Lehman Fitness Center is only open to resident students, the Maxcy Hall Fitness Center is open to the public. An annual Maxcy Hall Sports Club Pass may be purchased for $180 for an individual, $270 for a family, $130 for alumni, $200 for an alumni family, $90 for a student spouse, $135 for a student family, $90 for those over 55 or $135 for an over 55 family. Seasonal passes may also be purchased individually for $50.
The Fitness Center is open Monday through Friday from 7 a.m. to 9 a.m. and 11 a.m. to 10 p.m., and Saturday and Sunday from noon to 6 p.m.
SUNY Potsdam's athletic facilities also feature racquetball and squash courts, recreation equipment, exercise rooms, a pool, an ice rink, a field house, a climbing wall and ropes course, tennis courts, volleyball courts, a gym, a turf field and softball field.
For more information or to purchase a Maxcy Hall Sports Club Pass, contact Hewitt at (315) 267-3351 or hewitttk@potsdam.edu.
Media contact:
Alexandra Jacobs Wilke, Office of Public Affairs,
(315) 267-2918