Italian scholar and Potsdam ICT prof study video game engagement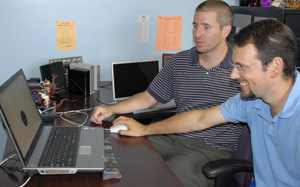 Why is it that so many people can play video games for hours on end and lose track of time, while for others a few minutes of game play is enough? Is it the individual or the game that matters?
SUNY Potsdam Department of Information and Communication Technology Associate Professor and Chair Dr. Tony Betrus and Italian visiting scholar Dr. Luca Botturi of the Università della Svizzera italiana in Switzerland have spent months researching video game engagement and writing a chapter for an upcoming International Society of Technology in Educational book about using simulations and games for instruction.
The duo has surveyed men and women of different gaming abilities to find out what makes video games appealing based on the variables of game play, media (such as sound, colors and animations), and storylines and characters. Based on the survey results, they are adjusting the game accordingly from its core, or most basic version.
For example, the premise of one of the adjusted versions of the game is about what happens to the Three Little Pigs after the traditional fairytale ends. Players must get the pigs to clean up their slovenly act so they can capture the attention of some lovely female sheep.
The purpose of the study is to help game developers with limited resources, especially educational and independent game developers, make their games more engaging.
Dr. Betrus and Dr. Botturi presented their findings thus far at the Games, Learning and Society Conference in Madison, WI, in early July. They have discovered that no single characteristic makes games engaging to all people. Women, for example, were more engaged in the core game than men, and women responded better to media enhancements.
They also found that the amount of time a player is willing to spend on a game varies with the mindset of that player. For instance, those who rate themselves as hardcore gamers will play the game the entire way through even if they don't like the game, whereas those who are lighter gamers will just play a bit of the way through and then quit.
"Video gaming theory has been out there for quite some time," said Dr. Betrus. "We are trying to get data to complement the theories."
By the end of their research, they hope to have a better idea of which characteristics most influence gamers to continuing playing games.
The research began in February with Dr. Betrus' Simulations and Games course creating the original game as a class project. He and Dr. Botturi then took it from there and added more functionality and the survey instruments.
Dr. Betrus and Dr. Botturi have known each other for about three years from presenting and attending conferences, especially from the Convention of the Association for Educational Communications and Technologies. Dr. Botturi decided he would like to work with Dr. Betrus on his research and he and his family are spending the entire summer living in Potsdam while he is on sabbatical from his home university where he is an instructional designer and researcher.
This is Dr. Botturi's first time in New York, and he, his wife and three children, ages 5, 3 and 7 months, are finding it quite different than other places they've lived and worked.
SUNY Potsdam has about twice the number of students of Università della Svizzera italiana and is about three times the campus size. Approximately 40 percent of its students are international and speak several different languages.
"It's very relaxed here," he said. "It's perfect for the kids. They can roam all over. Everyone is very friendly here. People trust you automatically. In Switzerland, trust is not automatic."
Dr. Betrus noted Dr. Botturi is the department's first visiting scholar, and he has brought innovative ideas and a different perspective to the department.
"Luca is good for the department. He challenges you," Dr. Betrus said. "He's a hard worker and our working relationship is effortless. We bring out ideas in each other. We both love to design, and this project is allowing us to follow through and make an actual product."
The pair will present the results of their research at the Association for Educational Communications and Technologyconference in Orlando this November.
Anyone interested in participating in this ongoing research study should contact Dr. Betrus at betrusak@potsdam.edu.
Media contact:
Alexandra Jacobs Wilke, Office of Public Affairs,
(315) 267-2918