Department of Psychology
Psychology, the study of human and animal behavior and thought, is a complex subject that utilizes information, tools and ideas from a variety of disciplines.
Some of the topics psychologists examine include how people interact with each other, how they solve problems, how people's personalities differ, how children acquire language, and how emotional and family problems are solved.
One of the larger departments on campus, psychology faculty are involved in research projects as well as their teaching responsibilities. Internship opportunities are available in a variety of areas for students. Knowledge in psychology can be used in almost any career - counseling, research, therapy, medicine, education, social work or human services.
Where Are They Now?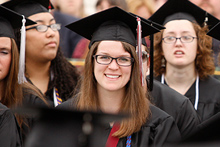 Amy Smith '13
After graduating from SUNY Potsdam in 2013, Amy Smith made her way to Tufts University. She was the corresponding author on a study that was recently published in the November 2016 issue of Science, one of the world's top scientific journals...
read more
[1]
.