Presidential Scholars Adviser: Dr. Mary Jo McNamara
Research Advisers: Amy Swartele and Micheal Yeomans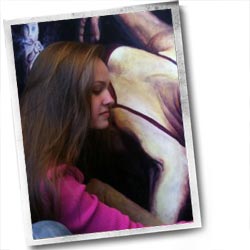 An Intense Exaggeration of the Emotional Aspects of Commonly used Imagery in Art History: The Annunciation Scene, Adam & Eve, and The Virgin & Child

Imagery with intense emotional content is captivating to the human eye through psychology. As an artist, I intend to study the emotional imagery in art history by creating three life-size oil paintings. I will include symbolism and intensify the emotional aspect behind three commonly painted stories in art history: Adam & Eve, The Annunciation, and Virgin & Child. With a strong interest in psychology, I feel that the story behind a piece of work can be the most captivating of all. After studying the history of these three paintings, I believe that they each have potential to be exaggerated through the psychological emotions of the characters in each particular setting. I hope to display these pieces during the spring semester of 2012 as an exhibit. I want to bring these historical images that are usually seen in art history class back to life by creating a contemporary series that will bring a surprising interest to the viewer.