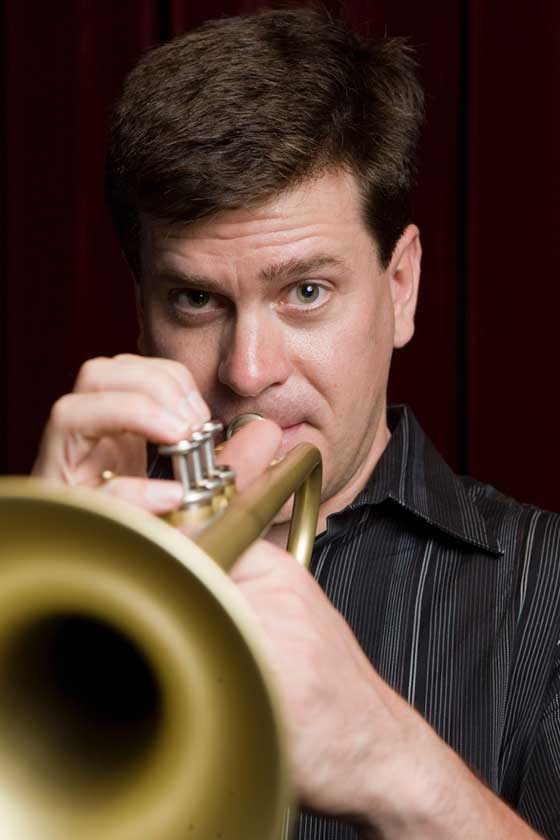 SUNY Potsdam's Crane School of Music will welcome guest artist Paul Merrill, trumpet, who will perform alongside the Crane Jazz Band and the Crane Jazz Ensemble next week.
The jazz concert will be offered on Thursday, April 14 at 7:30 p.m. in the Sara M. Snell Music Theater.
This concert is free, and the public is invited to attend.
About the guest artist:
Trumpeter, composer and educator Paul Merrill has been performing since the age of 10. As a teenager, he performed in the Goombay Jazz Festival in the Bahamas with his quintet, Interplay. In 1995, Merrill won a Downbeat Award for his performance with the New Jazz Ensemble directed by Rufus Reid. He has toured with Hank Roberts, Half Pint, John Brown's Body and the Grammy-nominated Phil Woods Big Band. As a trumpeter and/or big band director, he has performed and collaborated with Vincent Herring, Terell Stafford, Maria Schneider, Brian Lynch, Rufus Reid, Wycliffe Gordon, Eric Alexander, Carl Allen, Kevin Mahogany, Darmon Meader, Claudio Roditi and Steve Gilmore, among others, while recording and arranging for Schanachie and I-Town Records. Merrill's trumpet can also be heard in such films as "Suckerfish" (Jury Award winner at the Santa Barbara Film Festival) and "The Substitute II" (HBO). Currently pursuing a Doctor of Musical Arts degree in jazz studies and contemporary media at the Eastman School of Music, Merrill remains active as a clinician, Area All-State director, improvisation teacher, freelance trumpeter and member of the Central New York Jazz Orchestra. He holds a Bachelor of Music degree in jazz performance from William Paterson University and a master's degree in performance from Ithaca College. Merrill is currently the Gussman Director of Jazz Ensembles at Cornell University, and was formerly a faculty member at the Ithaca College School of Music.
This concert will be broadcast live on the SUNY Potsdam website at the performance time. To view the program and see other upcoming streaming performances, visit www.potsdam.edu/academics/Crane/streaming [2].
For more information about SUNY Potsdam's Crane School of Music, please visit www.potsdam.edu/crane [3].
###
Founded in 1886, SUNY Potsdam's Crane School of Music has a long legacy of excellence in music education and performance. Life at Crane includes an incredible array of more than 300 recitals, lectures and concerts presented by faculty, students and guests each year. The Crane School of Music is the State University of New York's only All-Steinway institution.