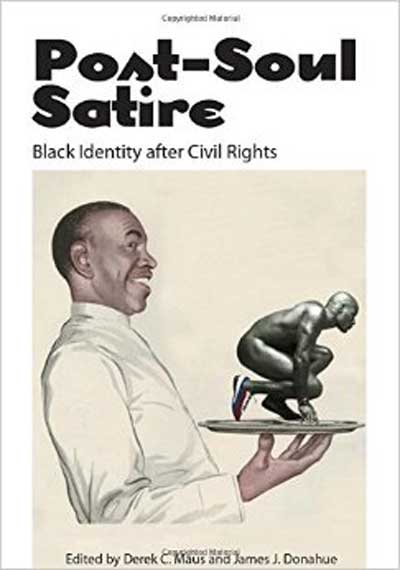 Two faculty members from SUNY Potsdam's Department of English and Communication teamed up to edit a collection of essays, which was recently published by the University Press of Mississippi.
Dr. Derek C. Maus and Dr. James J. Donahue, who are both associate professors, edited the collection of 21 essays, which is titled "Post-Soul Satire: Black Identity After Civil Rights."
The essays in "Post-Soul Satire" take an interdisciplinary look at the flowering of satire and its influence in defining new roles of black identity. As a mode of expression for a generation of writers, comedians, cartoonists, musicians, filmmakers and visual/conceptual artists, satire enables collective questioning of many of the fundamental presumptions about black identity in the wake of the civil rights movement.
"So much of American popular culture right now is dealing with difficult questions of race and identity in a satirical manner, that it seems almost self-evident to ask why and how that's happening," Maus said. "We also felt it was important to show how satire can actually serve an extremely important ethical and moral function, shining light on flaws and failings in a way that get ignored or dismissed when done in a straightforward manner. Satire may be funny, but it's not foolish."
Contributors look at the ways in which contemporary black satire engages in a broad-ranging critique that exposes fraudulent, outdated, absurd or otherwise damaging mindsets and behaviors, both within and outside the African American community.
Some of the artists discussed in the collection are: Paul Beatty, Dave Chappelle, Trey Ellis, Percival Everett, Donald Glover (a.k.a. Childish Gambino), Spike Lee, Aaron McGruder, ZZ Packer and more. The essays intentionally seek out interconnections among various forms of artistic expression.
About the editors:
Derek Mausreceived his bachelor's degree in history and English from the University of Arkansas, and went on to earn his master's and Ph.D. in English from the University of North Carolina. Since joining SUNY Potsdam in 2001, Maus has taught more than 32 different courses, ranging from introductory-level composition and literature to graduate-level seminars. He has also furthered his scholarly work, with a number of publications, as well as conference presentations. Maus is also the recipient of a number of honors and awards, including the Fulbright Lecturing Award.
James Donahueis an associate professor at SUNY Potsdam. He is primarily interested in exploring the complex literary and cultural tensions of 20th century America. In particular, he is endlessly fascinated with the Beat movement, modernism, postmodernism, historical fiction and Native American fiction.
For more information about "Post-Soul Satire: Black Identity After Civil Rights," visit http://www.upress.state.ms.us/books/1680 [2].
SUNY Potsdam's Department of English and Communication challenges its students to complete a core of courses that explore the varied ways people speak, write and read. The department offers Bachelor of Arts, Bachelor of Fine Arts and Master of Arts programs in literature, writing, professional writing, creative writing, speech communication and English and communication. For more information, visit www.potsdam.edu/academics/AAS/Engl [3].
Founded in 1816, and located on the outskirts of the beautiful Adirondack Park, The State University of New York at Potsdam is one of America's first 50 colleges. SUNY Potsdam currently enrolls approximately 4,300 undergraduate and graduate students. Home to the world-renowned Crane School of Music, SUNY Potsdam is known for its handcrafted education, challenging liberal arts and sciences core, excellence in teacher training and leadership in the performing and visual arts. Empowered by a culture of creativity, the campus community recently launched Take the Lead: The Campaign for Potsdam, which aims to raise $27 million by the College's bicentennial in 2016.